"We have done it with New Zealand, why can we not do it with the Pacific Islands, why can't we get these seasonal workers in here not requiring quarantine at all?
"And if that is not suitable, then come up with an arrangement so the farmer does not have to pay the quarantine cost …. that is an expense most farmers cannot afford, $4000 a head."
Mr Powell said Pinata Farms in his electorate had "left over 3 million punnets of strawberries in the field to rot" because of a lack of labour.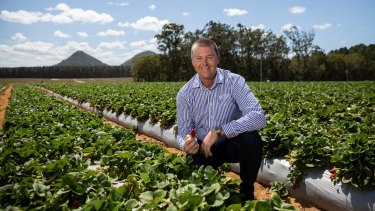 "A lot of people will say, 'Ah, there are people in Australia who should be taking on these jobs'. Well, I will give you this example from Gavin Scurr, managing director of Pinata [Farms]," he told Parliament.
Mr Powell read from a letter: "During September 2020, we employed 663 Australians on our strawberry farm.
"Of these, 42, that is less than 10 per cent, were still employed more than one pay period later."
Mr Powell said of those 663 employed at the start of the season, just two had stayed until the end.
"So I am sorry, it is clearly an example of where Australians just do not want to do this type of work.
"It is a crying shame, I am concerned there is a number out there on JobKeeper or JobSeeker who could be doing some of this work."
Agriculture Minister Mark Furner said Queensland was the first state to organise self-quarantining on the state's farms for "workers from Tonga, the Solomons and Vanuatu".
"We will continue to work with farmers right across the sector to ensure the important trade in which we are involved continues to prosper our state," he said.
"We are doing a lot more in terms of not only supporting our farms with labour but also continuing
relationships with our trading partners.
"The federal government continues to erode relationships with our trading partners. China is an example of the continual erosion of the goodwill that we have built over time with our trading partners."
Lydia Lynch is Queensland political reporter for the Brisbane Times