Adventure & Experience
 | 
Food & Drink
The chef preserving Gullah culture through storytelling
(Image credit: Dawna Moore Photography/Alamy)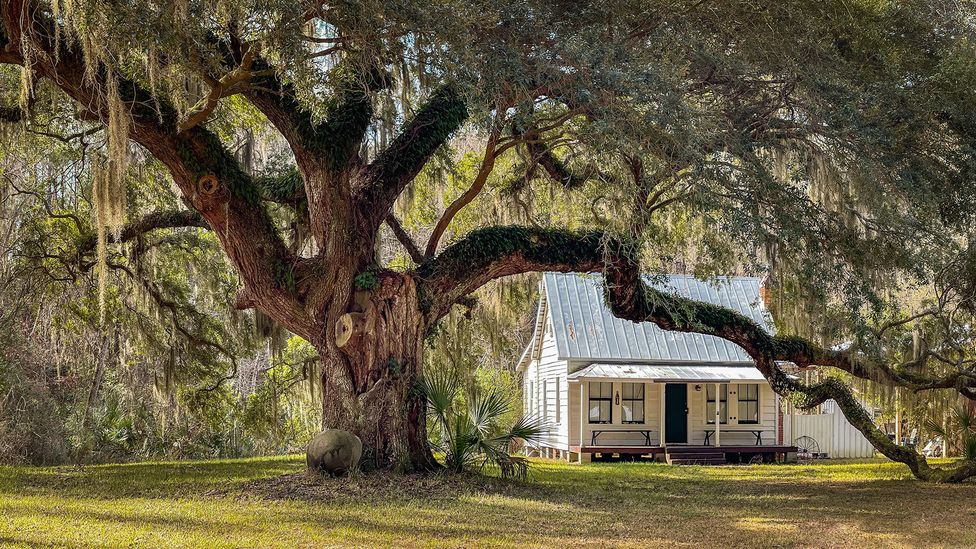 She's racing against time, development and the island's natural elements to save Gullah homes and cemeteries.
S
Sallie Ann Robinson wasn't supposed to be born on Daufuskie.  But it was almost like the island had a pull on her from the very beginning.
Robinson is the sixth generation of her family to live on this remote South Carolina isle off the east coast of the United States. Daufuskie is credited with the beginnings of Gullah culture – the customs and traditions shaped in the 18th Century by African American enslaved people along the coast and sea islands of South Carolina. Today, their descendants celebrate the unique culture through food, art, music, spirituality and language.
When she was pregnant and visiting her parents on the island, Robinson's mother unexpectedly went into labour while making dinner at the wood-burning stove. A midwife came to help, ushering baby Sallie Ann into the world. After the birth, mother and daughter were stuck on Daufuskie until they could safely travel. Drawn in by the coastal beauty and comforted by the presence of family, Robinson's mother decided to stay in their Gullah cottage – small homes constructed by the first freed slaves able to own land.
Robinson's voice holds a hint of Gullah lyrical speech, a lilting ebb and flow that seems to reflect the tug and pull of the Calibogue Sound that surrounds the island. There is no bridge to Daufuskie, which makes access a challenge, but the march of development and the crush of tourists have come just the same. In the face of this wave, Robinson is on a mission to preserve the island culture that has defined her life.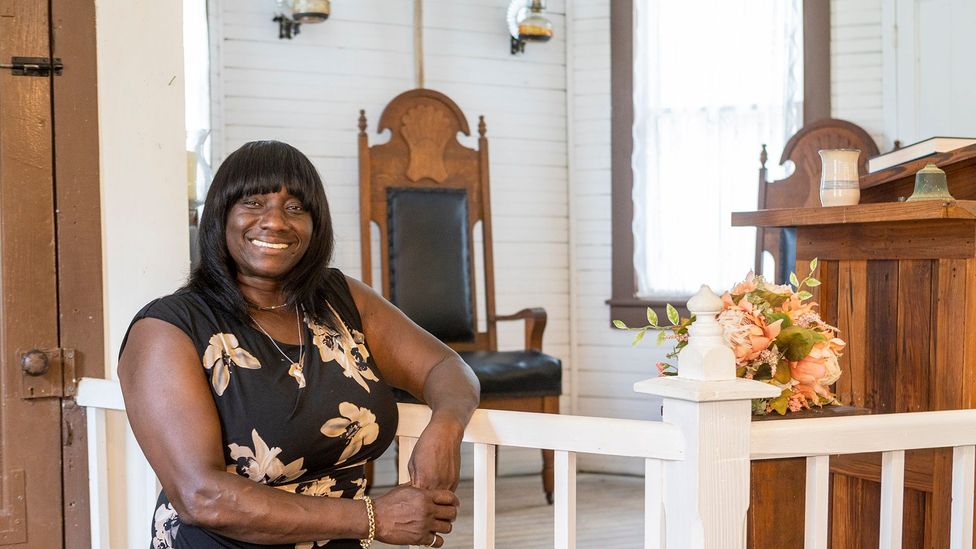 Robinson shares her stories on tours, and uses profits to help restore Gullah homes and cemeteries (Credit: Butch Hirsch Photography)
Visitors ride the ferry from Hilton Head to Daufuskie, disembarking at a marina near the site of an abandoned resort ringed by an overgrown Jack Nicklaus-designed golf course. The luckiest tourists dip off the main thoroughfares to travel the island's oak-lined dirt roads on Sallie Ann's Authentic Gullah Tour. Robinson shares local history, childhood stories and her infectious laugh as she brings people to sites like the island's two-room schoolhouse and the First Union African Baptist Church.
Despite her constant cheer, she never neglects the serious nature of her work. Robinson channels profits from her business into her charity, The Daufuskie Island Gullah Heritage Society. On her quest to save Gullah homes and cemeteries on the island, she's racing against time, development and the island's natural elements.
Growing up in the 1960s, Robinson said life on Daufuskie was a rural paradise where everyone was equal. "Boys could do anything girls could do," she said. "They taught us to do it all. We had the best of food; we had the best of neighbours. I grew up with a mix of neighbours that we knew as family and friends."
Island residents were oystermen, hunters, cooks, farmers and fishermen. They were also storytellers, and Robinson extends that gift for storytelling to her work. She begins every tour with tales of her own family; the men and women who worked to create a home away from the conveniences of town. She remembers the quirks of rural life by the ocean, like riding a cow with her friends to the beachfront so the snakes didn't get them.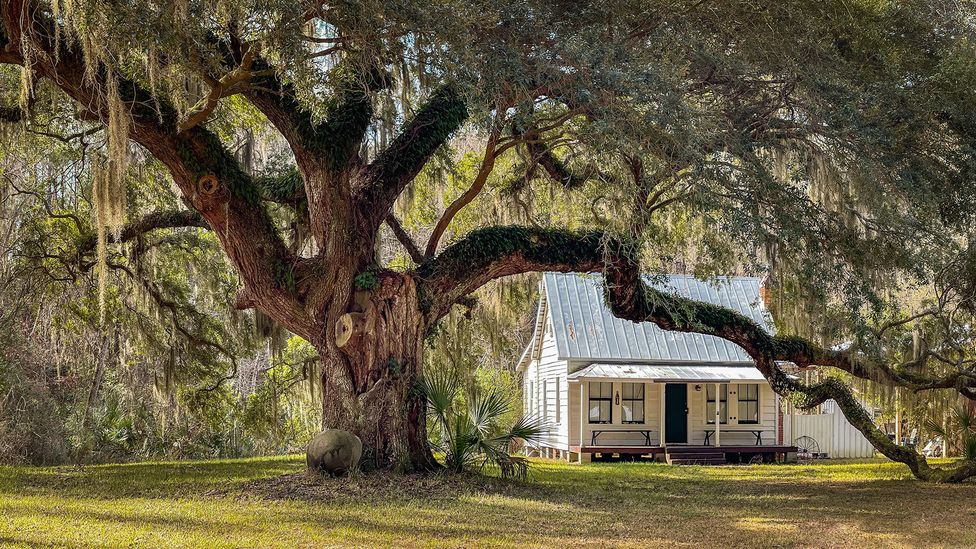 Gullah cottages, sometimes called "oyster houses", are a vital part of the heritage on Daufuskie Island (Credit: Dawna Moore Photography/Alamy)
She also remembers her time in grade school as Pat Conroy's student. The famous author wrote about Robinson in his book The Water is Wide. In the book, Sallie Ann is Ethel, a precocious student with unlimited promise. Conroy became Robinson's lifelong fan, eventually providing the foreward for one of three cookbooks she wrote to celebrate Daufuskie's culinary heritage.  Through these cookbooks, Robinson introduced the reader to her family's Gullah recipes, a blend of West and Central African food traditions featuring the ingredients of the coastal US South. Many recipes rely on easily attainable seafood and local meats and call for slow cooking so that dishes that could be simmered all day while people toiled in the fields.
You may also be interested in:
• The US island that speaks Elizabethan English
• The sinking islands of the southern US
• How rice shaped the American South
After Conroy left, Robinson was forced to move off-island to Savannah to continue her schooling. There she felt alone, her distinctive Gullah accent a source of taunts from the kids in her new school. After graduating, she acclimated to life without Daufuskie, working as a successful chef, food educator and mother of three. Her star continued to rise as she demonstrated Gullah culinary traditions as a featured chef at Washington DC's Smithsonian Institution in 2011. She wrote cookbooks and educated viewers about Gullah cooking on Georgia Public Broadcasting, Food Network and the Travel Channel.
However, something was missing. Robinson wasn't completely happy away from Daufuskie. Feeling the spirits call her back, she decided to answer. "I really have a thing about peace and quiet and Daufuskie gives it to you," she said. "No matter where I was or what city I stayed in, it was always about being back on Daufuskie. The ancestors literally said to me that I need to go back home."
Coming home, Robinson found a different island than she remembered. Life was hard for the native islanders, and transportation that would allow full-time residents to work in neighbouring Hilton Head or Savannah was extremely limited. Even today, the ferry only runs until 16:00, making regular working hours impossible. In the 1950s, contamination from nearby industrial runoff devastated the island's biggest industry, oyster farming and canning. Residents were faced with a hard choice: leave for opportunity on the mainland or stay and live off the land. Many chose to leave, and when their parents passed away, they were unable to come back to live full time. The historic Gullah cottages, sometimes also called "oyster houses", fell into disrepair; family lands went unused; and the cemeteries grew neglected. The Gullah population, which had once numbered in the hundreds, dropped to just 21 people.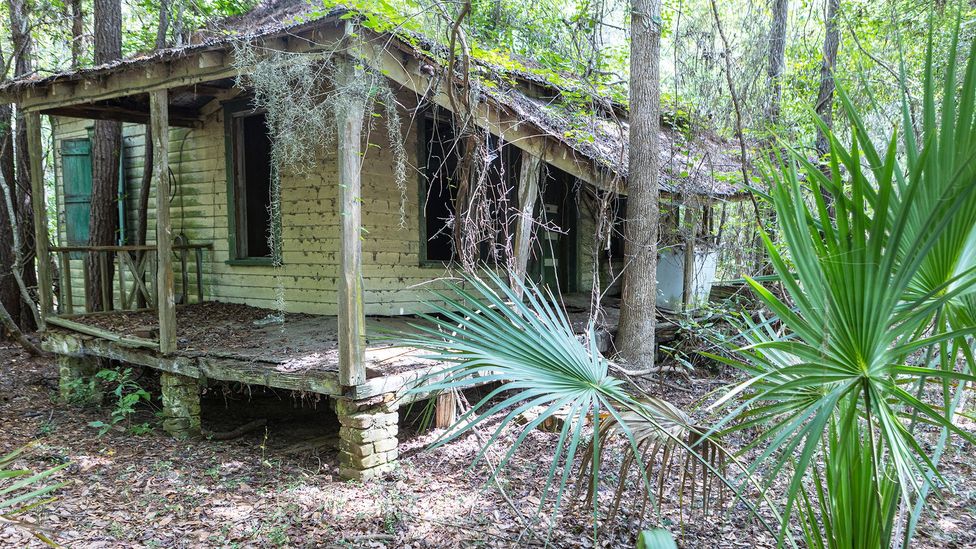 "The stories live in those homes, the community lives in the history," said Robinson of Gullah cottages on the island (Credit: Butch Hirsch Photography)
When Robinson first returned in 2016, she took a job with a local tour company telling her stories, certain that educating visitors would help broaden public support for saving Gullah landmarks on the island. But she became restless and unhappy with the huge needs for preservation that were unaddressed. Seeing the necessity for funding, Robinson decided to take her story to her own company and devote portions of her profit to helping restore cultural landmarks on Daufuskie through an organised charity. She's helped in the preservation of original Gullah homes including the Francis Jones House where she lives, a one-room cottage built by the family of the island's first schoolteacher in 1856. She's also sponsored the cleaning of burial stones in the cemetery. Robinson hopes that when tourism resumes, her efforts will bring funds for more urgent preservation and restoration projects.
Robinson moved into that restored Gullah cottage in a partnership with Palmetto Trust for Historic Preservation and regularly hosted guests through Airbnb. Guests were treated to breakfasts of wild-caught shrimp and creamy stone-ground grits Robinson made while telling Gullah stories. Her efforts gained momentum through publicity in articles in O Magazine, Garden & Gun and Southern Living, as well as by word of mouth. Recently, Netflix came to Daufuskie to learn about food, filming Robinson for the show High on the Hog: How African American Cuisine Transformed America.
And she's not done yet. Robinson has plans for children's books, memoirs and more restoration. "I have a business that I love and it brings me joy every day to talk about the folks that are gone," she said. "Most of all, I don't want this to stop here. A lot of places need this help. If we can do it here, we can do it anywhere."
Robinson firmly believes that preserving historical places will make these lessons real for the children of the future. "If we don't get those houses back and they continue to go downhill, we are going to lose all the stories. Yes, they are connected. The stories live in those homes, the community lives in the history. They are falling into the ground. I want to do something about it."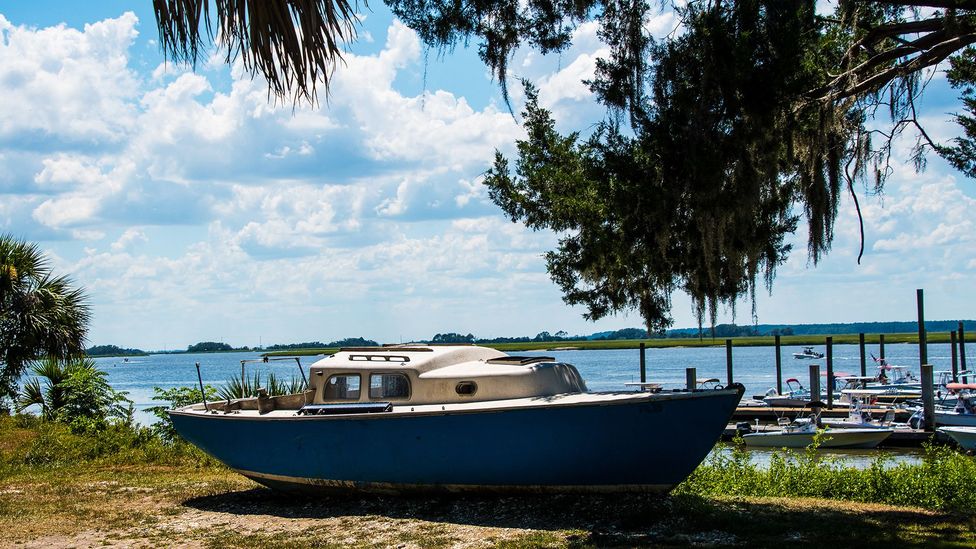 After the oyster industry was devastated in the 1950s, island residents faced the choice of leaving for jobs or living off the land (Credit: Penny Britt/Getty Images)
For Robinson, the lessons learned from her Gullah ancestors on Daufuskie are timeless. Looking out the window at her giant backyard oak, its moss-laden branches reaching for the blue sky, she said, "I grew up here in a community that didn't judge you. People were firm but they wanted the best for you. They knew a life where they had to create everything to have it. No-one on this island went hungry or needy. We didn't live in fancy houses, but we weren't poor. We were rich with so much."
With such a wealth of tradition and culture, even progress can't erase the Gullah influence on the Lowcountry region of South Carolina. Robinson is here to make sure that the physical landmarks endure as well.
—
Join more than three million BBC Travel fans by liking us on Facebook, or follow us on Twitter and Instagram.
If you liked this story, sign up for the weekly bbc.com features newsletter called "The Essential List". A handpicked selection of stories from BBC Future, Culture, Worklife and Travel, delivered to your inbox every Friday.