Coffee, for me, is an essential component for sustaining life.
It provides a warm, caffeine-filled start to my day, which would otherwise be spent aimlessly stumbling around my apartment trying to wrench my brain into action. That first morning cup is almost a holy experience—until five minutes later, when the coffee is a tepid sludge of dirty bean water.
Luckily, like many of my Wirecutter colleagues, I own the Zojirushi SM-SC48 Stainless Steel Mug.
Our pick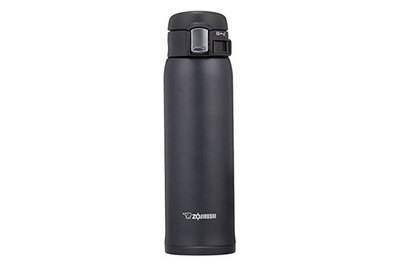 Zojirushi Stainless Mug
The Zojirushi SM-SC (or SM-SD or SM-SA in certain colors) offers amazing heat retention, one-handed usability, and a locking, leakproof lid.
A version of the Zojirushi mug has been a Wirecutter pick since 2013 because it does an exceptionally good job of keeping hot liquids hot and cold liquids cold.
It's also slim and light, and it comes in a variety of colors and finishes. And the Zojirushi lid has a nifty locking latch that's easy to work with one hand and prevents it from opening accidentally (an absolute necessity for something you throw in your bag alongside a laptop).
But the heat retention is where the vacuum-insulated Zojirushi stands out.
For our testing, we filled the mug with water that was 200 °Fahrenheit and put it in the freezer, and eight hours later the water temperature had dropped to 142 °Fahrenheit. In the same test, another travel mug pick (which is also vacuum-sealed) let the water temperature fall to 80 °Fahrenheit.
After years of testing and recommending travel mugs, the only real complaint we've heard about the Zojirushi is that occasionally it does its job too well, keeping a beverage scalding hot long after the coffee or tea drinker suspects it might still be so.
…