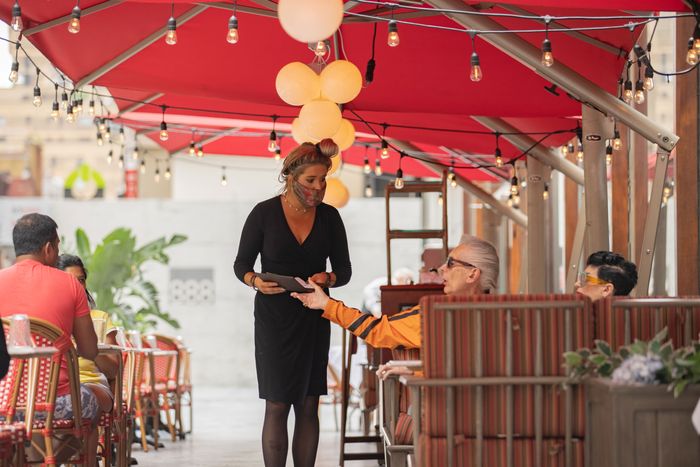 Photo: Jeenah Moon/Bloomberg via Getty Images
Over Labor Day weekend, the federal government ended its so-called enhanced-unemployment-benefits program, reaching the dreaded "benefits cliff." The benefits, unusually generous by the standards of this country, staved off evictions and allowed many people to hold off on returning to jobs they may have felt were unsafe or were otherwise undesirable. Already, some restaurateurs are excitedly telling the New York Post that this could mean, at long last, the end of their ongoing staffing woes.
One, Jeremy Merrin of the Cuban chain Havana Central, tells the tabloid, "It's unbelievable there are so many people claiming unemployment and everyone I know in the restaurant industry can't find enough staff." Restaurateur Stephen Starr rehashes a familiar talking point, saying that "logically, it makes sense that once unemployment benefits stop, more people will apply for jobs."
This is a tired argument against a necessary social safety net, repeated ad nauseam by some business owners and the pro-business camp. As Adam Chandler wrote in the Washington Post in May, "Study after study has debunked the myth that the emergency benefits and occasional payments provided by the government are disincentivizing people from returning to the labor force en masse." (Not to mention the fact that the benefits alone weren't necessarily enough for people, especially those with families, to get by.)
So it is not surprising that last week, The Wall Street Journal reported that states that ended enhanced unemployment benefits early have not seen any difference in job growth. And last month's job report was, as CNBC put it, "a huge disappointment" and the worst since January. Just 235,000 jobs were added, compared to an expected 720,000. Job growth in leisure and hospitality stalled after leading the economy for the past six months. In large part, the stalled growth has been pinned on the Delta surge, which Reuters wrote has "reduced demand for travel and entertainment."
Even in my own conversations with business owners who bemoan the very existence of these unemployment benefits, it hasn't been difficult to get them to admit that there are in fact other reasons why they're having trouble hiring staff (such as old staff moving out of the city or country!).
For restaurant and bar workers specifically, money is one concern, but it is not the only one. Workers who spoke about leaving the industry cited the lack of stability and work environments in an industry in which abusive behavior is endemic. Others cited the absence of benefits like health insurance and paid time off as well as the power imbalance with both employers and customers. Many hospitality workers know people who died or got severely sick. Additionally, their employers didn't necessarily do anything to make them feel secure or taken care of. Meanwhile, some people have simply moved on to other careers they had always wanted to pursue, started their own businesses, returned to school, or are carving out their own space in the restaurant and bar industry. The end of unemployment
…
The COVID-19 pandemic has created a nurse staffing crisis that is forcing many U.S. hospitals to pay top dollar to get the help they need to handle the crush of patients this summer.
The problem, health leaders say, is twofold: Nurses are quitting or retiring, exhausted or demoralized by the crisis. And many are leaving for lucrative temporary jobs with traveling-nurse agencies that can pay $5,000 or more a week.
It's gotten to the point where doctors are saying, "Maybe I should quit being a doctor and go be a nurse," said Dr. Phillip Coule, chief medical officer at Georgia's Augusta University Medical Center, which has on occasion seen 20 to 30 resignations in a week from nurses taking traveling jobs.
"And then we have to pay premium rates to get staff from another state to come to our state," Coule said.
The average pay for a traveling nurse has soared from roughly $1,000 to $2,000 per week before the pandemic to $3,000 to $5,000 now, said Sophia Morris, a vice president at San Diego-based health care staffing firm Aya Healthcare. She said Aya has 48,000 openings for traveling nurses to fill.
Ad
At competitor SimpliFi, President James Quick said the hospitals his company works with are seeing unprecedented levels of vacancies.
"Small to medium-sized hospitals generally have dozens of full-time openings, and the large health systems have hundreds of full-time openings," he said.
The explosion in pay has made it hard on hospitals without deep enough pockets.
Kansas Gov. Laura Kelly lamented recently that the state's hospitals risk being outbid for nurses by other states that pay a "fortune." She said Wednesday that several hospitals, including one in Topeka, had open beds but no nurses to staff them.
In Kansas City, Missouri, Truman Medical Centers has lost about 10 nurses to travel jobs in recent days and is looking for travelers to replace them, said CEO Charlie Shields.
He said it is hard to compete with the travel agencies, which are charging hospitals $165 to $170 an hour per nurse. He said the agencies take a big cut of that, but he estimated that nurses are still clearing $70 to $90 an hour, which is two to three times what the hospital pays its staff nurses.
Ad
"I think clearly people are taking advantage of the demand that is out there," Shields said. "I hate to use `gouged' as a description, but we are clearly paying a premium and allowing people to have fairly high profit margins."
In Texas, more than 6,000 travel nurses have flooded the state to help with the surge through a state-supported program. But on the same day that 19 of them went to work at a hospital in the northern part of the state, 20 other nurses at the same place gave notice that they would be leaving for a traveling contract, said Carrie Kroll, a vice president at the Texas Hospital Association.
"The nurses who haven't left, who have stayed with their facilities,
…
PHOENIX – With more people traveling, there's in increased demand for flights. However, some major airlines are struggling to keep up with post-pandemic travel.
With weather and staffing changes, American Airlines has been forced to cancel hundreds of flights, with more cuts on the way.
Over the weekend, TSA screened more than two million travelers at security checkpoints over the last four days, indicating that people are feeling safe to hit the skies again.
"It feels good," said one traveler. "It feels normal."
As this increase continues, American Airlines has been forced to cancel more than 300 flights over the weekend due to bad weather. This is impacting crew schedules, and a big rise in customer demand is causing them to adjust.
"On several days throughout the past weeks, we've experienced multi-hour ground stops that have had a serious impact not only on our aircraft routing, but also our crew routing," officials said in a statement.
The airline announced they would be cutting flights to avoid any strain in their operations. This was decided after storms nationwide hit major hubs for the airline, causing delays and cancellations. This also allows for a bigger pool of pilots on reserve to pick up the load.
Luckily, for travelers at Phoenix Sky Harbor Airport today, things seemed to be running more smoothly.
The airline plans to cut about 1% of flights during the first half of July to provide employees the flexibility to respond to problems when they arise. Luckily, Sky Harbor is not one of the airports affected heavily by this.
"Everything has been done, everything has been normal," one Sky Harbor visitor said.
The full statement by American Airlines:
The first few weeks of June have brought unprecedented weather to our largest hubs, heavily impacting our operation and causing delays, canceled flights and disruptions to crewmember schedules and our customers' plans. That, combined with the labor shortages some of our vendors are contending with and the incredibly quick ramp-up of customer demand, has led us to build in additional resilience and certainty to our operation by adjusting a fraction of our scheduled flying through mid-July. We made targeted changes with the goal of impacting the fewest number of customers by adjusting flights in markets where we have multiple options for re-accommodation.
Our focus this summer — and always — is on delivering for our customers no matter the circumstance. We never want to disappoint and feel these schedule adjustments will help ensure we can take good care of our customers and team members and minimize surprises at the airport.
While this is happening, Delta Airlines is announcing a hiring boom and are looking to hire more than 1,000 pilots by next summer.
For the latest local news, download the FOX 10 News app.
More travel news
Tune in to FOX 10 Phoenix for the latest news:
…
Mark Infante has owned Ruthcliffe Lodge, a six-room inn on Isle La Motte, for almost four decades. But this year, he said, it's been harder to find staff than ever before.
"We've run ad, after ad, after ad. We've called so many places and so many people we know," Infante said. "And we just can't find people. Nobody wants to work."
Hotel owners on the Lake Champlain islands have had little trouble booking rooms this summer, with some saying they expect record numbers of guests.
But many owners still are struggling to find, for instance, line cooks and housekeepers — an issue complicating their return to business more than a year into the pandemic.
Brian Dye, general manager of Apple Island Resort in South Hero, said the resort has had better luck hiring staff than other businesses in the area, but still has some unfilled jobs. Still, he said, the place will be "pretty full" this season.
"Everyone's looking for some kind of help," Dye said.
Summer worker shortages have been reported nationwide this year, a trend some experts have pegged on career changes and international travel restrictions as a result of the pandemic. 
Gov. Phil Scott signed legislation last week extending a state program that offers financial reimbursements to people who move to Vermont for a job — starting July 1, grants of up to $5,000 will be available on a first-come, first-served basis. 
New Vermonters from areas with high unemployment rates or low wages could receive up to $7,500. Critics, though, have challenged the efficacy of the program, and the new law calls for a study to see if it actually accomplishes its goal.
Busy summer expected
Still, "the mood is optimism" in Grand Isle County heading into the summer, said Andy Julow, executive director of the Lake Champlain Islands Economic Development Corp.
Several local institutions, including Hero's Welcome General Store and Shore Acres Inn and Restaurant in North Hero, have bolstered their services under new ownership and may help draw visitors back, he said.
Marc Lamphier runs the Ferry Watch Inn, a hotel and wedding venue in Grand Isle. He said the hospitality industry was "kind of written off" during the pandemic, but his place now has only a few openings left for events. 
"The lodging is booked solid for the summer, and weddings have been a lot busier than expected, for sure," Lamphier said.
At Shore Acres, General Manager Jason Hanny said the number of guests this summer will be "way, way up" over previous years. The inn has plans to build — and demand for — a lakeside bar, but has so far been unable to hire staff for it. 
"I'm surprised at how few
…
  Where are the workers? Employers around Park City are suffering from staffing shortages. 
There are almost 1,500 fewer jobs in the leisure and hospitality sector in Summit County when compared to 2019. That's according to the Utah Department of Workforce Services's December 2020 local insights. 
Even with fewer jobs, Historic Park City Alliance Executive Director Alison Kuhlow said there are also fewer workers, thanks to stricter rules regarding work visas. 
"We are expecting a shortage from here on out at this point," Kuhlow said. "With the J-1 visas – we don't have any understanding of when those may come back into play – that was a significant resource for employees for our businesses."
Kuhlow said there are also more jobs down in Salt Lake City drawing in workers from surrounding areas like Orem or Provo, who don't want to make the trip up Parley's Canyon. 
"If people are stuck in traffic, they're not going to choose to work up here in Park City," she said. "And so traffic, transportation, park-and-rides, pay [are] all items that kind of boil down to the problem that we're having with regards to employees and of course affordable housing."
While employers are reporting staffing shortages, the leisure and hospitality sector of the economy have seen more unemployment claims than any other sector in the county. Since the start of the year, there have been around 130 claims, nearly 50 more than the second highest sector: professional or business services. 
That could be because people are reassessing their career paths. A Pew Research survey showed that 66% percent of people unemployed had seriously considered changing their field of work during the pandemic. 
Park City Chamber Bureau CEO Jennifer Wesselhoff said many people are also still hesitant to return to work until they're fully vaccinated or their kids are back in school. 
"It's interesting, people are saying that it's not a labor shortage," she said. "It's a great reassessment of work in general in America." 
Earlier this month, Utah Gov. Spencer Cox announced the state would cut the $300 weekly federal unemployment funding. Wesselhoff said employers still might not see their staff come back.
"It's definitely going to create some urgency, I think, for those folks who may have had that extra bump in on federal unemployment, that may no longer have that," she said. "But that doesn't necessarily mean that they're going to be going back to the same job or even the same industry that they were in pre-pandemic."
Federal unemployment benefits will end in Utah June 26.
…
Notably, Bezos — through a brand new holding company called Nash Holdings LLC— might be buying only the Post newspaper and closely held associated ventures. During the 2020 Democratic Party presidential primaries, Senator Bernie Sanders repeatedly criticized the Washington Post, saying that its protection of his campaign was slanted against him and attributing this to Jeff Bezos' buy of the newspaper. Sanders' criticism was echoed by the socialist journal Jacobin and the progressive journalist watchdog Fairness and Accuracy in Reporting.
In 2015, Jeffrey Goldberg's "Obama Doctrine" was broadly mentioned by American media and prompted response by many world leaders. A leading literary journal, The Atlantic has revealed many significant works and authors. It was the primary to publish items by the abolitionists Julia Ward Howe ("Battle Hymn of the Republic" on February 1, 1862), and William Parker, whose slave narrative, "The Freedman's Story" was revealed in February and March 1866. For instance, Emily Dickinson, after studying an article in The Atlantic by Thomas Wentworth Higginson, requested him to turn out to be her mentor. It was based in 1857 in Boston, Massachusetts, as The Atlantic Monthly, a literary and cultural journal that printed main writers' commentary on training, the abolition of slavery, and different main political problems with that point. Its founders included Francis H. Underwood and outstanding writers Ralph Waldo Emerson, Oliver Wendell Holmes Sr., Henry Wadsworth Longfellow, Harriet Beecher Stowe, and John Greenleaf Whittier. This annual conference brings together the current 12 months's class of Inc. 500
For Students
You conform to receive updates, alerts, and promotions from the CBS household of companies – including ZDNet's Tech Update Today and ZDNet Announcement newsletters. You may even obtain a complimentary subscription to the ZDNet's Tech Update Today and ZDNet Announcement newsletters. By registering, you agree to the Terms of Use and acknowledge the information https://Technology.com practices outlined within the Privacy Policy. Please review our phrases of service to finish your newsletter subscription. BP is implementing Agile working methods as part of its transition to becoming a web-zero enterprise by 2050 or sooner.
Maharashtra students Alert! Class 9th, 10th and 12th to resume from July 1; Know the latest update – Zee Business
Maharashtra students Alert! Class 9th, 10th and 12th to resume from July 1; Know the latest update.
Posted: Tue, 16 Jun 2020 07:00:00 GMT [source]
While the reported chemical partnership is good news, this study also opens up a number of avenues for exploring how one may resort to creating extra efficient semiconductors with a right combination of compatible chemical substances to further improve the prevailing class of electronic devices. provides eligible public info officers paid entry to a reliable news launch distribution service. offers eligible reporters with free access to embargoed and breaking news releases. That means that anybody can benefit from a collective pool of trade standardised models and from this accelerate their digital twin journey. FIWARE joined earlier in 2021 and can collaborate on influencing digital twin standards and the open-source implementation …