HONOLULU – A child who traveled to Hawaii with his parents died from COVID-19, the Hawaii Department of Health announced on Tuesday, marking the state's first pediatric coronavirus-related death.
The boy, who was between the ages of 0-10 years old and had underlying health conditions, developed COVID-19 symptoms shortly after arriving on the island while on a trip with his parents. He was taken to a hospital where he later died, a news release from Hawaii health officials said.
Both of the child's parents were fully vaccinated before making the trip.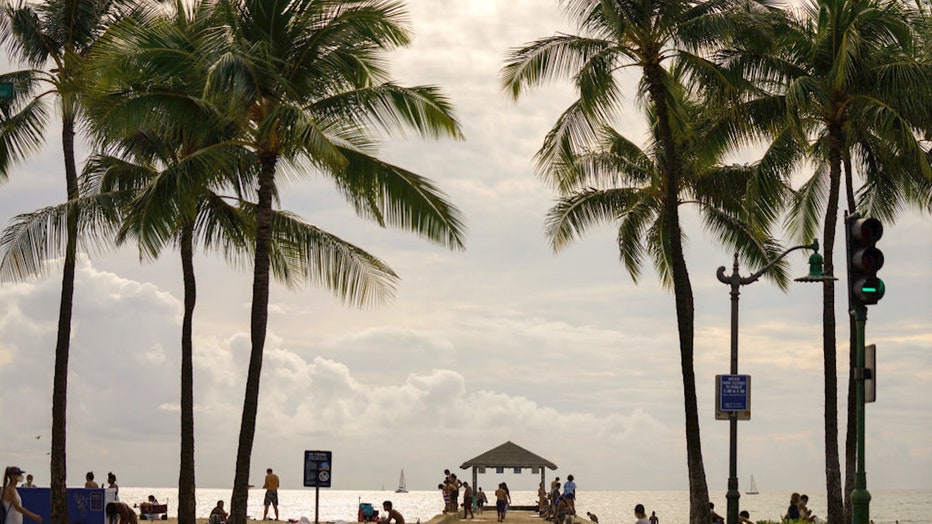 FILE – People enjoy the beach at the Kapahulu groin in Waikiki on Friday, Oct. 16, 2020 in Honolulu, HI amid an ongoing COVID-19 pandemic.
RELATED: CDC: children's summer camps should continue social distancing, mask-wearing to prevent COVID-19 spread
So far, Hawaii has reported a total of 32,041 COVID-19 cases and 479 total deaths, according to the state health department website.
As of April 22, more than 3.71 million children had tested positive for COVID-19 since the onset of the pandemic. "After increases in newly reported cases in the past couple of weeks, we have seen a slight decrease in new cases this week – nearly 80,000 new child cases," according to the American Academy of Pediatrics and the Children's Hospital Association (AAP).
Deaths due to the novel coronavirus in children are rare. A total of 0.00%-0.03% of all child COVID-19 cases result in death, according to the AAP.
RELATED: COVID-19 and multisystem inflammatory syndrome in children: What parents need to know
"At this time, it still appears that severe illness due to COVID-19 is rare among children. However, there is an urgent need to collect more data on longer-term impacts of the pandemic on children, including ways the virus may harm the long-term physical health of infected children, as well as its emotional and mental health effects," the AAP said.
While children are at less risk of developing severe symptoms due to COVID-19, a rare inflammatory syndrome — called multisystem inflammatory syndrome in children, or MIS-C — has been linked to COVID-19.
"MIS-C is a condition where different body parts can become inflamed, including the heart, lungs, kidneys, brain, skin, eyes, or gastrointestinal organs. Children with MIS-C may have a fever and various symptoms, including abdominal (gut) pain, vomiting, diarrhea, neck pain, rash, bloodshot eyes, or feeling extra tired." according to the Centers for Disease Control and Prevention.
RELATED: 'Educate yourself': Mom warning parents of MIS-C's link to COVID-19 after son's near-death experience
As of March 29, 3,185 total cases of MIS-C and 36 deaths had been reported in the U.S. as a result of MIS-C, according to the CDC.
Upticks in cases
…