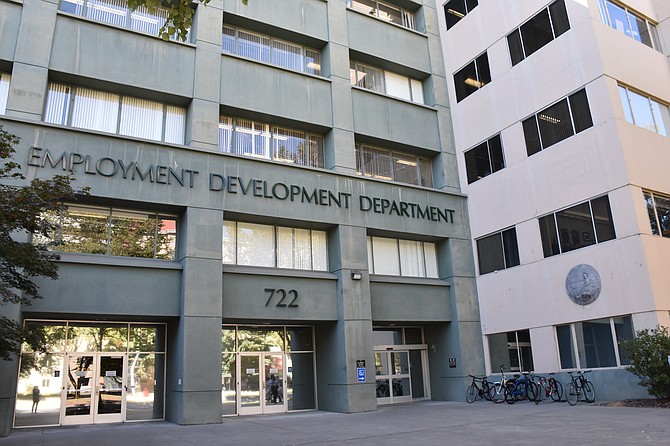 Even as Los Angeles County's employment picture darkened after revised state data showed job losses for 2020 were substantially bigger than previously reported, local economists are choosing to look forward.
The state's Employment Development Department said March 12 that the county lost 562,000 jobs last year, 143,000 more than originally estimated. The agency also reported that L.A. started 2021 with a 12.6% unemployment rate — twice the national average.
But local economists are choosing to focus on the future, saying the pieces are now in place for a rebound that should start showing up in jobs numbers for the second quarter and beyond.
They point to falling Covid-19 hospitalizations, the accelerating pace of vaccinations and billions of dollars in federal stimulus that should start coursing through the local economy.
"We have great conditions now in place for an economic surge," said Taner Osman, research manager at Westchester-based Beacon Economics. "We should expect a big surge in hiring in the second quarter."
The question now, though, is whether this anticipated hiring wave will be enough to erase the huge job losses that occurred last year.
That's where the state's data revisions come in. These updates were part of the EDD's annual benchmarking process to reexamine assumptions and models and adjust to actual payroll employment data supplied by employers throughout the year.
The agency often adjusts payroll jobs numbers down during recessions, but this year's revision was by far the largest.
What's more, the gap between modeling assumptions and actual payroll data grew as the year progressed; the gap widened most during the summer months when the county was supposedly in a jobs recovery.
Unemployment Rate (Jan. 2020 – Jan. 2021)

Month
L.A. County Rate (%)
California Rate (%)
U.S. Rate (%)
Jan. 2020
4.3
3.9
3.6
Feb.
4.3
3.9
3.5
Mar.
6.6
5.5
4.4
Apr.
20.8
16.4
14.7
May
21.1
16.4
13.3
June
19.4
13.9
11.1
July
17.9
13.3
10.2
Aug.
16.4
11.4
8.4
Sept.
15.5
11.1
7.9
Oct.
12.0
9.0
6.9
Nov.
10.9
8.1
6.7
Dec.
12.6
9.3
6.7
Jan. 2021
12.6
9.0
6.3

Sources: California Employment Development Department and U.S. Census Bureau
"The benchmarking process revealed that the original sample-based estimates weren't capturing all of the job loss experienced in L.A. County throughout the pandemic," said Shannon Sedgwick, director of the Institute for Applied Economics at downtown-based Los Angeles County Economic Development Corp.
'A much bigger hole'
The EDD's revised number of payroll jobs lost in 2020 was 562,000, not 419,000 as originally reported. That's a drop of 12% as opposed to an initially reported drop of 9%
Why did L.A. County lose so many more jobs than expected?
In part it's because some of the industries hit hardest by the pandemic are concentrated in the county, especially leisure/hospitality and film/television production.
The county's leisure/hospitality sector shed 215,000 jobs in 2020, 40,000 more jobs than originally reported. Another 50,000 jobs were lost in the film/television industry, far more than the 33,000 initially estimated.
To put the scale of the revised job loss figures in perspective, Osman noted that L.A. County's 4,055,000 payroll jobs in December matched the number from September 2012.
"That's more than eight years of job growth in the county wiped out," he said.
The revised number also means that to return to pre-pandemic levels, the county has to add many more jobs than originally expected.
"The hole is much bigger that we have to dig out of," Osman said.
Prior to the pandemic, he noted, the county was adding between 40,000 and 80,000 payroll jobs a year. If that pace of growth were to resume, it would take up to nine years to recover all the jobs lost.
Osman said the combination of the improving ability to combat the pandemic and the huge fiscal stimulus will give a positive jolt to an economy that had stalled out during winter's coronavirus surge. The county hasn't notched a month of positive job growth since November.
"I expect that this year, we'll blow that 40,000 jobs average out of the water," he said. "There may even be a month or two where we add 100,000 or more jobs.
"But the question is, how long will that continue?" he added. "When the recovery ends, will we be at 80% of where we were pre-pandemic? At 90%?"
Another local economist concurred that the deeper jobs hole will be harder to climb entirely out of.
"For the foreseeable future, the level of employment in L.A. County will be lower than it would have been without the pandemic," said Sung Won Sohn, professor of finance and economics at Loyola Marymount University in Westchester.
Stimulus 'patch'
The billions of dollars in federal stimulus funds expected to come into the county from checks to residents, unemployment benefit extensions and direct aid to local governments is expected to help, but only temporarily, the economists say.
"The stimulus is just a much-needed patch and not the solution," LAEDC's Sedgwick said. "The bigger issue in recovery now is the opening of the economy. People need places to spend their money, like restaurants, leisure activities, entertainment and on personal services. Only then will the hardest hit industries recover by having jobs open up in these decimated service sectors and giving people a chance to get on their feet again."
That will take a combination of restrictions being lifted and increased vaccinations.
"People will resume their pre-pandemic behavior as they feel safer," Sedgwick said.
For reprint and licensing requests for this article, CLICK HERE.