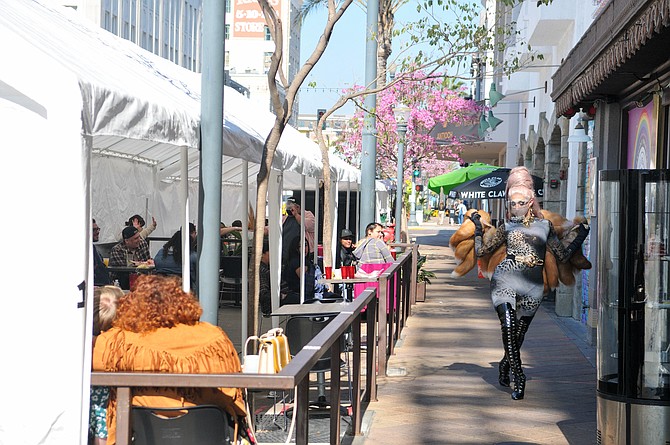 Photo by Thomas Wasper
Los Angeles County's jobs picture darkened in January – and not just because of the Covid-19 surge and business shutdowns.

The state Employment Development Department released revised data on March 12 that showed L.A. County's unemployment rate for both December and January at 12.6%, with December's rate significantly higher than the 11% first reported six weeks ago.

January's unemployment rate of 12.6% was also much higher than the statewide rate of 9% and twice the national unemployment rate of 6.3%, showing just how disproportionately the county's workforce has suffered during the pandemic.

A year ago, just before the pandemic reached L.A. County, the unemployment rate stood at a near-record low of 4.3%.

Revised data for December also showed the county had 143,000 fewer payroll jobs than initially reported, meaning payroll job losses for 2020 year were in the vicinity of 12% instead of 9%. The drop of 562,00 jobs for the year represents a much deeper hole for the county to dig out of in the months and years ahead.

These revisions were part of the EDD's annual benchmarking process as it re-examines its assumptions and models to adjust for new trends that may emerge during the year. 
The agency often adjusts payroll jobs numbers down during recessions, but this year's revision was by far the largest ever. That's because the speed and magnitude of the downturn that resulted from the near-instantaneous shutdown of much of the economy one year ago swamped the agency's ability to analyze in real time and could only be fully realized as more data were collected and analyzed over time.

By far the county sector that contracted the most was leisure/hospitality, which shed 215,000 jobs in 2020, 40,000 more jobs than initially reported six weeks ago. Much of the drop came from food services and drinking establishments, which fell by 126,000.

The county's motion picture and sound recording industry lost 50,000 jobs in 2020, far  more than the 33,000 reported six weeks ago. Professional/business services also shed 50,000 jobs, well over the 38,000 drop first reported six weeks ago.

Making matters worse was the drop in January, as employers in Los Angeles County shed another 85,000 jobs. In most years, there's a sizable drop in January as temporary holiday season hires in the retail sector are let go. 
But this year, the January drop coincided with the severe impact of the winter Covid surge that saw caseloads soar 10-fold over October levels and local hospitals fill beyond capacity. That meant the latest round of business shutdowns instituted after Thanksgiving had to continue throughout January.

The county's leisure/hospitality sector in January shed another 26,000 jobs from December's level, with the accommodation/food service subsector dropping by about 20,000 jobs. The retail sector, which normally records a net loss of jobs in January, fell by 14,500 jobs.
For reprint and licensing requests for this article, CLICK HERE.