She is expected to learn the ins and outs of coaching from her former coach Scott Smith.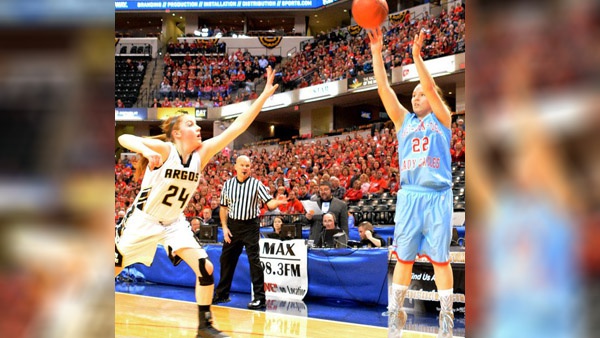 Lilly Simon shoots from the corner during the 2016 IHSAA Class 1A Girls Basketball State Championship Game. File photo.
(Osgood, Ind.) – A former Jac-Cen-Del High School basketball star is returning home to coach.
Lilly Simon has been named the head coach in waiting for the girls' varsity basketball program under the direction of Scott Smith beginning with the 2022-2023 season.
The Jac-Cen-Del School Board approved the hiring at their May 16th meeting.
Simon earned a letter in varsity basketball each of her four years at Jac-Cen-Del. Over her four years, she averaged 13.6 points, 5.0 rebounds, 3.7 assists, and 1.5 steals per game.
During her sophomore season, Simon played a key role in helping the Lady Eagles capture the Class 1A State Championship. In the title game, she led the Lady Eagles in scoring with 16 points. 
As a senior, Simon played so well she was named a nominee for the McDonald's All-American Game.
Simon would go on to play at the University of Findlay, where she appeared in 60 games between 2018 and 2021.
As shown in the board meeting minutes, Simon is the coach in waiting under the direction of Scott Smith. Coach Smith previously stepped down as Jac-Cen-Del girls' varsity basketball head coach in March. 
Smith has had an incredible run at JCD, winning 385 games over 21 years in charge of the program. In that time, JCD has won 16 sectional titles, four regional championships, and the state title in 2016. 
RELATED STORIES
Scott Smith Steps Down as JCD Girls' Varsity Basketball Coach