Travel Bubble amid vaccine politics the only way out for tourism
By Vipula Wanigasekera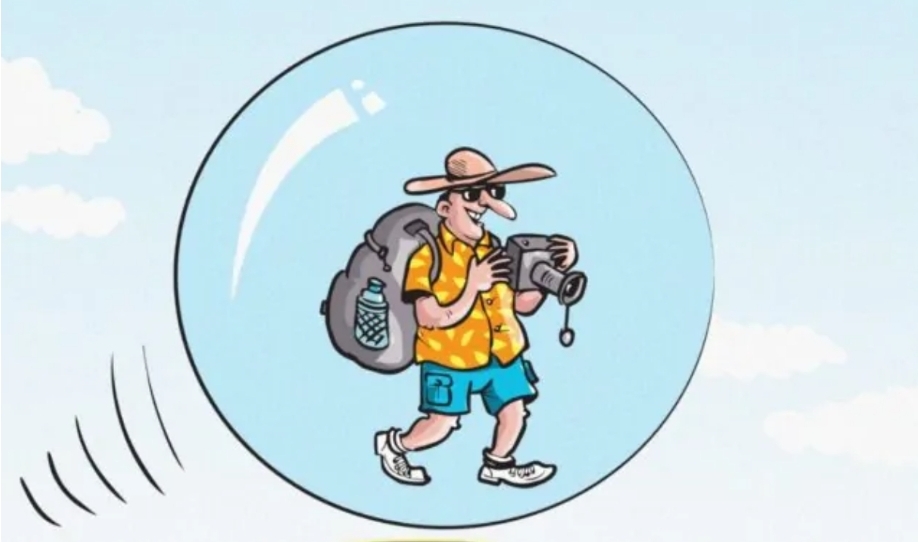 Sri Lanka tourism revenue has slumped from US $4.4 billion at the peak to almost nothing in 2020. Among the other worst hit foreign exchange earners were foreign remittance, apparel, and tea exports. A senior hotelier representing Sri Lanka's tourism power brand Jetwing, claims losses of over Rs 2.5 billion in 2020 were recorded the government's debt moratorium. This is a crisis if not a catastrophe, but getting back on the feet requires calibrated policy decisions and careful scrutiny over what has worked and failed world over.
Sri Lanka's tourism industry and authorities are trying hard to keep the hospitality sector from sinking until tourism picks up on its own. The purpose of this piece is to shed light on the 'travel bubble' concept, which has been referred to at various fora locally and internationally.
The 'alleviation of fear' in the minds of future traveler is a main prerequisite to bring tourists to Sri Lanka. This was similar to the travel advisories issued from time to time during the conflict. Tourists arrived regardless of warnings that country was at 'civil war' because the visitors themselves knew they were not targets. Can this notion be applied during Covid-19 too?
The deviation here is that 'vaccine politics' at play among powers, particularly in the West has hindered the global vaccination goals. Some nations concentrating on only vaccinating their populations and some others administering the third booster shot while the majority of the world languishes due to vaccine shortage, will not help tourism.  OXFAM International stated several months ago "rich nations were vaccinating one person every second while majority of the poorest nations are yet to give a single dose while developing countries were facing critical shortages of oxygen and medical supplies to cope with COVID-19". This vaccine inequality will have dangerous consequences. One of them as per scientists is Covid-19 becoming a pandemic of the unvaccinated.
The World Trade Organisation (WTO) has attempted to override the monopolies held by pharmaceutical companies to allow an urgently needed scale up in the production of vaccines for poorer countries and enable more equitable access to the vaccines. The firms strongly opposed this and lobbied their governments not to approve WTO advances on account of intellectual property protection. Their profits have grown exponentially as a result.
In July this year, writer T.V. Padma in an article 'COVID vaccines to reach poorest countries in 2023' noted that ''around 11 billion doses are needed to fully vaccinate 70% of the world's population against Covid-19 and as of July 2021 only 3.2 billion doses had been administered.'' This vaccine gap can find relief in mass production and streamlined global distribution of the vaccine. China is at present the only country with the capacity to bridge this gap the fastest. This would also expedite plans for seamless travel bubbles.
The implication for tourism as a result of power politics has been severe. So far, more than 80% of the doses have gone to people in high-income and upper-middle-income countries and only 1% of people in low-income countries have been given at least one dose, according to the website Our World in Data. This makes a case for travel bubbles. A fully vaccinated tourist would holiday in long haul destination and be reluctant of exposure to the unvaccinated. This dilemma awaits Sri Lanka despite its ambitions to reopen the country for tourism. Unless, the country is able to stem the Covid-19 infection and deaths and ensure robust measures in quarantine compliance, tourists won't choose to come. The exception are tourists who support anti-lockdown protests in Western capitals of Germany, Australia, but this may raise health safety issues for the populations of tourist destinations if regulations are not strictly adhered to.
The virus has so far capitalized on any delays in decision making and mutated unabated creating deadlier variants. The Delta variant is a result of such delayed decision making to vaccinate a critical mass in India. The variant has thrown the world back into uncertainty despite many global citizens attempting recommence business, travel and a life under the new normal. The world can rapidly return to this if vaccinations fail 'to leave no one behind.'
Furthermore, the travel bubble has another strategic benefit, which would be a platform to negotiate for reciprocity. For instance with Sinopharm and Sinovac vaccinated Chinese tourists  poised to resume their travel overseas, would have to be accommodated by destinations desperately needing foreign currency, apart from the usual Chinese business.
An effective vaccination program coupled with 'Bio safety bubble' tourism could push the tourism sector to reopen with some optimism. With the Center for Disease Control and Prevention (CDC) giving a green light for travel after receiving the vaccine, most vaccinated Americans are eager to start planning trips abroad. Countries are also preparing for the arrivals, staging events such as European Football Championship, Olympics and the Para Olympics where spectators were allowed in under strict controls. Even then the virus penetrated the controls and infected some participants,
Sri Lanka stayed ahead of the travel bubble curve. Over 50 charter flights have arrived in Matalan from Ukraine and Russia and authorities will pursue similar arrangements with India.  China is another potential destination as they are the 2nd leading source market for Sri Lanka before the pandemic hit. The travel bubbles rely heavily on charter flights and therefore with the trials completed, Sri Lanka needs to get back to the experience of having charter flights from regions such as Scandinavia in the 60s and 70s.
Sri Lanka Tourism board completed a study several years back to publicize over 700 lesser known attractions in Sri Lanka, with their significance historically or otherwise being documented.  The reluctance at that time had been that their locations not being within traditional travel itineraries hence the lack of interest in promoting them.
The 'travel Bubble' can be also be applied to domestic tourism and locations away from traditional sites. The diversity of Sri Lanka is yet to be exploited to segments within the country which can then be extended to foreigners as the Malaysians did prior to the 'Truly Asia' campaign.
To make the 'travel bubble concept' a reality, with countries that are willing to open their doors in source markets for Sri Lanka,  proactive responses from government agencies and other stakeholders are vital and for them to be different to what they have been in the past.
Apart from much needed health precautions, conducting business in the pandemic era required some quick transformations. Advanced digitalization, innovation and the integration of new technologies into tourism through virtual journeys, electronic menus touch less check-ins and digital consumption behaviors are some areas that can help tourists' feels safer.
Multi-government agency cooperation to tourism sector could help build tourist confidence of Sri Lanka being a compliant Covid-19 destination. The vaccine politics and inequality is going to take many months to fix. That is time the Sri Lanka's tourism cannot afford.
(The Writer is former Sri Lankan diplomat, CEO Convention Bureau and DG Tourism Authority and currently and Academic for ECU Perth)
***************
Disclaimer – Factum is a Sri Lanka based think-tank providing international relations analysis and public diplomacy consultancies in Sri Lanka and Asia. Visit – www.Factum.LK