Principal Marcus Bourland's excitement reads on his face through a face mask, excitement borne by a yearslong goal approaching fruition. 
Bourland, head of Denton ISD's Advanced Technology Complex, will soon be able to welcome the ATC's first full-time students.
Denton ISD opened the Sarah and Troy LaGrone Advanced Technology Complex in 2006 as a place for students to more aggressively prepare for careers after high school.
As of 2020, the ATC offered classes in welding, cosmetology, hospitality and other trades.
Juniors and seniors attend core classes — think English, math, history and science — at their traditional high schools for half of the school day before traveling to the ATC to take career-specific courses. 
Many of those classes culminate in students testing for industry certifications.
A portion of district's funding from the state also comes from how prepared students are for futures in college, careers or the military. 
Gwen Perkins, the area superintendent over the ATC, told Denton school board members during Tuesday's meeting the district hopes the new ATC academy model would increase career and technical education participation by 50%.
Bourland addressed several successive groups of current ATC students Friday from the school's lobby. 
He explained the new model, which Denton ISD officials have begun to refer to as "the academy," would exist alongside the existing half-day program. Core classes would be hosted on campus, so students could be more fully immersed in the Advanced Technology Complex. 
Some core classes would even have curriculum adjusted. For instance, English classes might assign books or essay topics to students based upon their chosen career paths. 
"There's some limitations on that," Bourland added. "U.S. Government is still U.S. Government, right?" 
He explained this is something students have been asking after for years, and some of this year's ATC juniors would eventually be its first graduating class. 
Until the 2021-22 school year, ATC students have been graduates of their home campus. The complex also serves students from other school districts.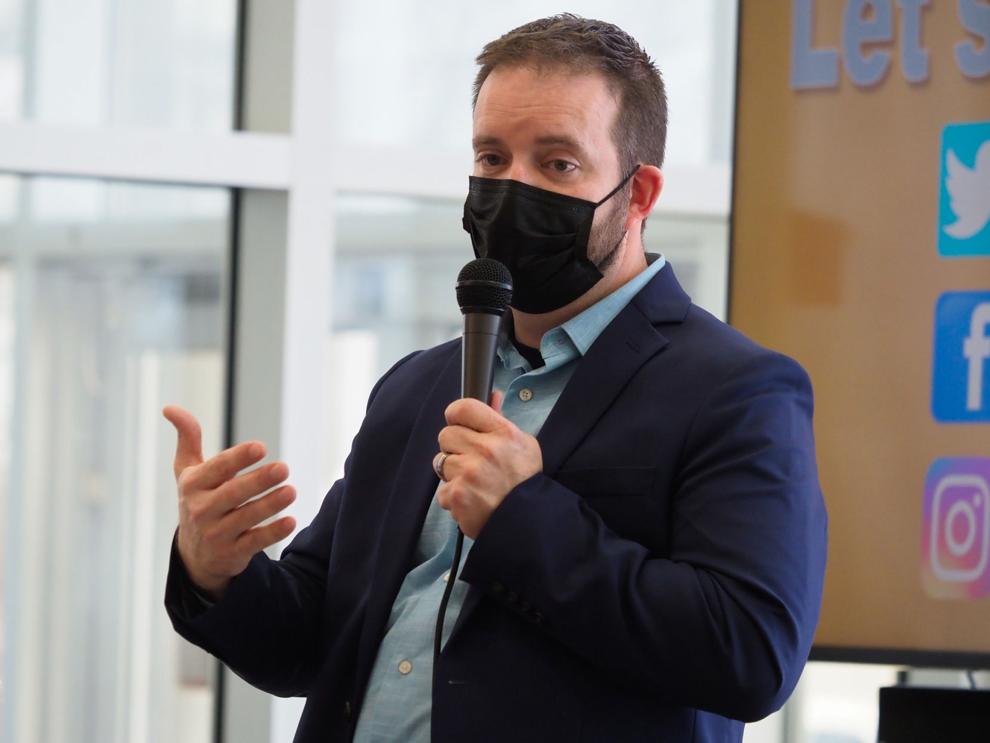 He wasn't sure Friday if Denton ISD would be able to accommodate students from other districts, even those currently enrolled at the ATC, in the academy's first year.
Despite the work he's doing to promote the academy, Bourland is upfront in saying it isn't for every student. 
"We will not have sports teams here, we will not have fine arts here," he said. "If you are highly involved on your campus in athletics and fine arts, we are not trying to recruit you."
Ultimately, the academy is for students who aren't connected to traditional campuses through the traditional routes. 
He said he isn't hung up on the exact numbers, but recent polling suggested somewhere around 350 students would likely be the first batch of students. 
The new model would have the option for a prom and career-specific letter jackets, but many of the school-to-be's details remain contingent upon what types of students are interested.
Additionally, many details were yet to be decided by Friday morning, which Bourland said owes to the fact that things are moving quickly in order to have the school up and running in time for the next school year. 
For instance, he said the school doesn't have an official logo, though he seemed fairly sure the mascot would be a lion. Even the program's name hadn't been decided by Friday morning.
Bourland said "LaGrone" and "academy" would be in the full title, but that was as much as he could share. 
Multiple students in his Friday morning information sessions asked how dual-credit and other honors classes would be handled if students were to leave their home campuses for the ATC full time.
Bourland said officials were working to make that possible so students aren't missing opportunities, but he wouldn't know for sure until he saw what students interested in the program want to take. 
Additionally, it might not be possible to have enough teachers for all Advanced Placement courses on site, but students might be able to take such classes remotely or even travel to other campuses for them if they want. 
Those students would be able to take the all the existing classes the school has to offer, and Bourland said they might even add some additional classes, such as business-oriented courses, as well. 
He also said the school is considering ways to bus students to campus if they don't have transportation otherwise. 
Interest forms, which are not applications, will hopefully be online by the time students return from spring break on March 16, Bourland said, and they'll be due by March 24. 
MARSHALL REID can be reached at 940-566-6862 and via Twitter at @MarshallKReid.