Stay with this story for updates on Colorado weather Sunday:
The Storm: Front Range communities face a second day of snow from a winter storm that's still pounding Colorado. Denver could see another seven inches of snow while Colorado Springs faced up to five inches. 
Overnight, the storm left neighborhoods around Denver with about three inches of snow and a similar amount was on the ground in the Pikes Peak region, the weather agency said.
The biggest snow totals in Colorado from the storm came near Fort Collins, with nearly a foot reported by spotters and more on the way.
Snow began falling across the Front Range just before 10 a.m. Saturday and forecasters expect snow to stick around through Sunday.
9 a.m.: An avalanche has closed Colorado Highway 14 from Ted's Place north of Fort Collins to Cameron Pass, the state Department of Transportation said.
State officials have issued and avalanche warning for the Front Range today as snow piled up from the weekend storm starts to slide.
Interstate 25 remains closed north of Fort Collins to the Wyoming line and Highway 287 from Fort Collins to Wyoming is also shuttered.
Highways 24 and 94 east of Colorado Springs are also closed due to blowing snow.
8:45 a.m.: Snow is picking up across the Front Range, bedeviling snow plow crews trying to clean up streets.
In Colorado Springs, officials asked drivers to steer clear of plows, which need extra room to deal with heavy snow in the city's northern neighborhoods.
In Denver, traffic on Interstate 25 was slogging along at an average speed of 37 mph, the Colorado Department of Transportation said.
8:30 a.m.: Light snow in Colorado Springs is falling and heavy snow is hitting Denver and more and more communities ask drivers to stay off the roads.
The latest is from Fort Collins where plow crews are having to rescue stranded drivers rather than clearing streets.
"Roads are treacherous: Please do not travel unless it's an absolute emergency," Fort Collins officials said on Twitter. "Our snow plow crews are helping many residents with travel issues, which diverts resources from snow removal of our city's emergency routes. Please stay at home for everyone's safety."
8:15 a.m.: If you're a fan of figure skating, you'll love watching drivers hit the road this morning.
Lots of triple axels and double salchows are being accidentally completed on the roads, and wreckage is piling up on arterial streets from the Wyoming border to Pueblo.
"Please stay home and off the roads if you can," Boulder police said in Twitter Sunday morning. "The roads are snow packed, slick and vehicles are getting stuck."
8 a.m.: Colorado's Department of Transportation has invoked vehicle traction laws on Interstate 25 from Lonetree to Monument.
That means cars will need snow tires or chains to navigate the route.
Several Front Range agencies are asking drivers for the same thing: Stay home.
To keep up with Sunday's closings and delays in the Pikes Peak region, visit https://gazette.com/closings/.
7:45 a.m.: Highway 6 was closed over snowbound Loveland Pass Sunday morning. Other high country attractions shut down amid heavy snow.
"Due to winter storm conditions, Florissant Fossil Beds will be closed today," the National Parks Service said on Twitter.
7:30 a.m.: Travel of every kind was difficult along the Front Range Sunday. More than 1,300 flights have been cancelled for Denver International Airport.
Truckers were required to chain up over Monument Hill at the Douglas County line and chains were required on many high country highways.
Peterson and Schriever Air Force bases in Colorado Springs were telling troops to stay home Sunday. More than 30 flights were cancelled Sunday at the Colorado Springs Airport.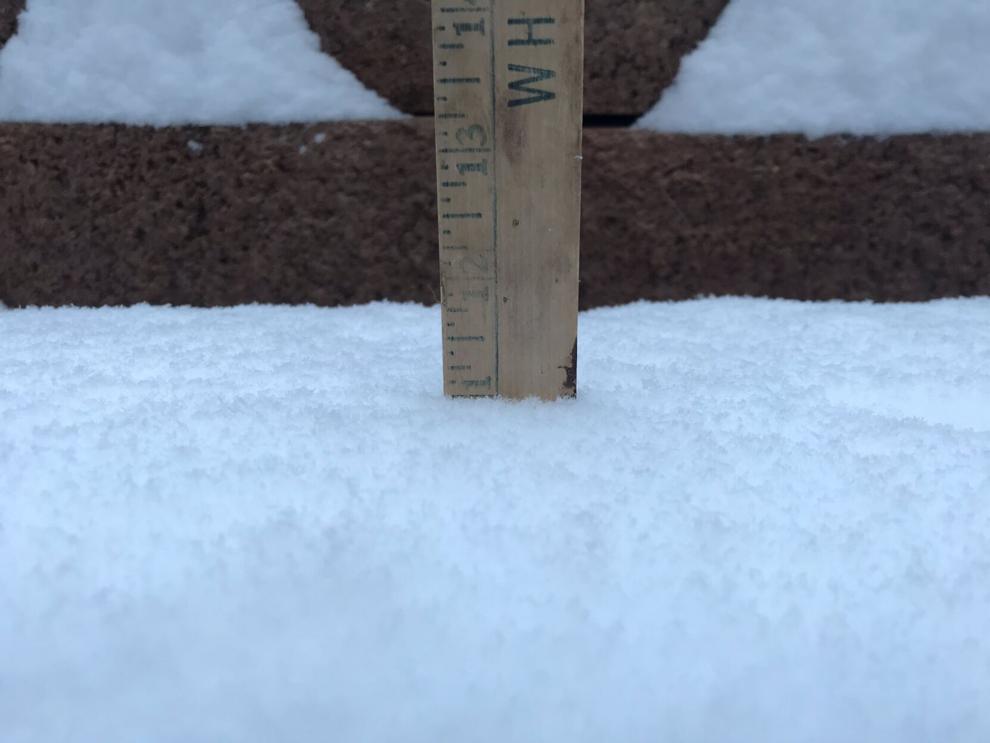 In Woodland Park, nearly a foot of snow had fallen.
7:15 a.m.: Churches around the Pikes Peak region were moving Sunday services online, allowing worshipers to avoid icy roads.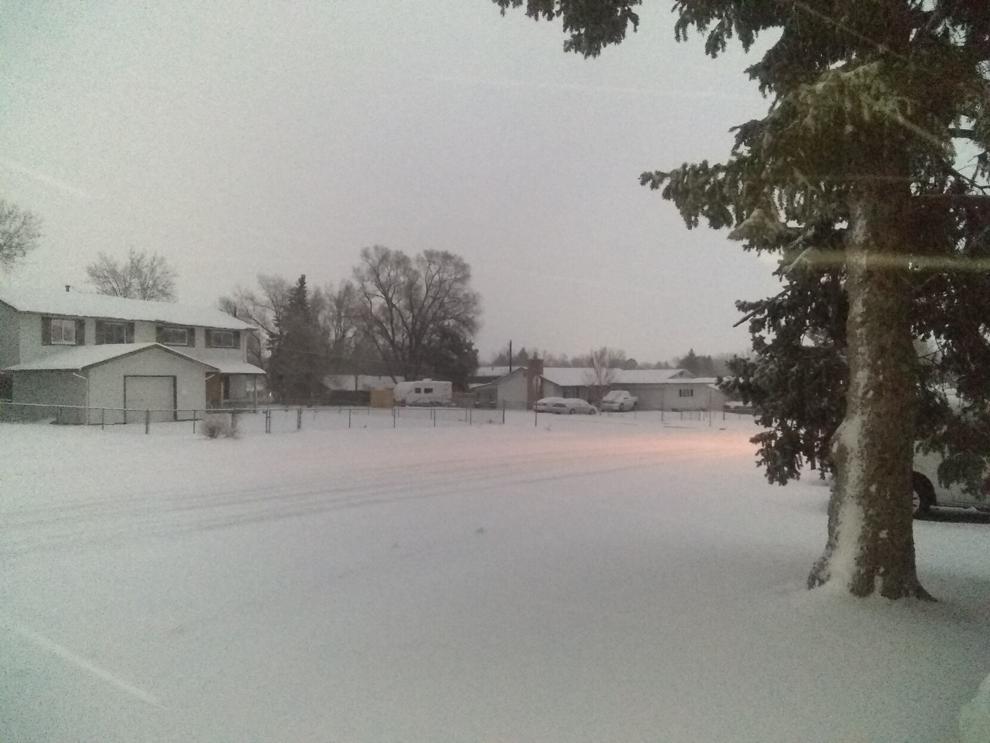 Among those opting for online Services was First Presbyterian Church in downtown Colorado Springs.  
Temperatures along the Front Range were expected to hang near freezing amid Sunday's snow, but hope was on the way.
Most communities can expect temperatures in the high 30s to mid-40s Monday and Tuesday before another, smaller storm rolls in Tuesday night.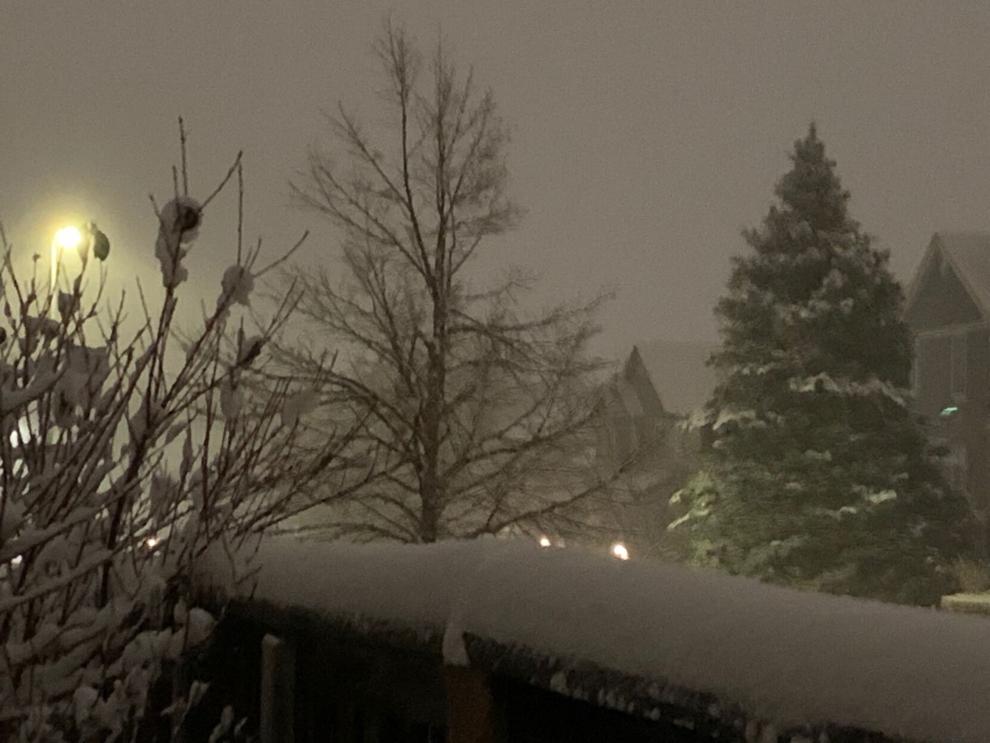 7 a.m.: Plow crews were at work in Denver to clear icy roads, but officials warned getting streets cleaned up will take some time.
"Roads are snow covered and we'll have our drivers on duty throughout the day to make consecutive passes and drop deicing material on the main streets, as needed," Denver officials said in a news release. "We continue to ask residents not to drive if they don't have to, given the challenging driving conditions. "
To the south in Parker, residents awoke to more than five inches of wet snow blanketing neighborhoods. In Colorado Springs, wind gusts were causing snow drifts.
6:45 a.m.: Heavy snowfall over steep terrain has triggered an avalanche warning from state officials.
"Avalanches will be easy for backcountry travelers to trigger and can run naturally during periods of high intensity snowfall," the Colorado Avalanche Information Center warned Saturday morning. "Backcountry travel is dangerous and not recommended. Avoid travel on or under all steep slopes."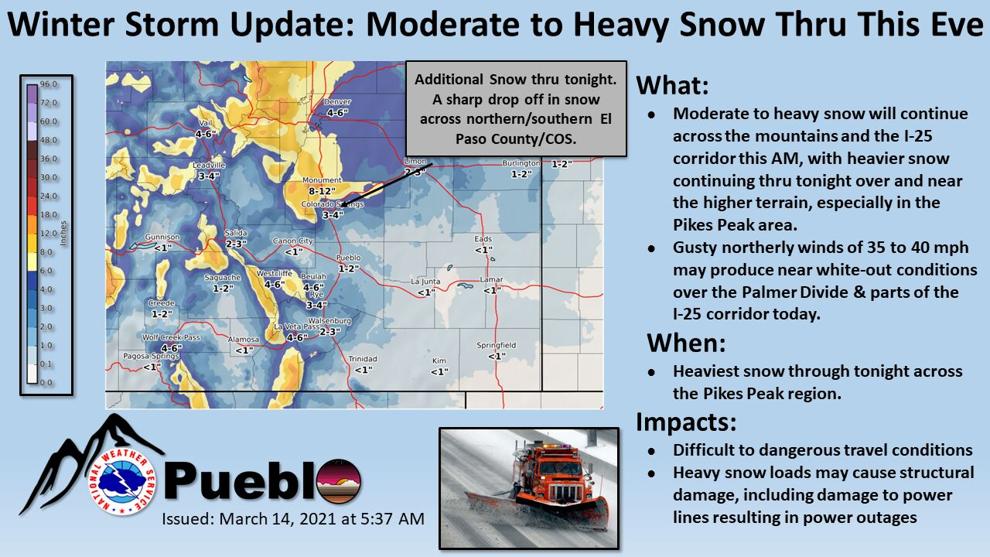 6:30 a.m.: Roads were like rinks around the front range and that had fire crews hopping.
In Colorado Springs passengers were pulled from a wrecked car on Academy Boulevard near Rebecca Lane just after 3 a.m., firefighters said.
The injured were taken to hospitals for treatment, firefighters said.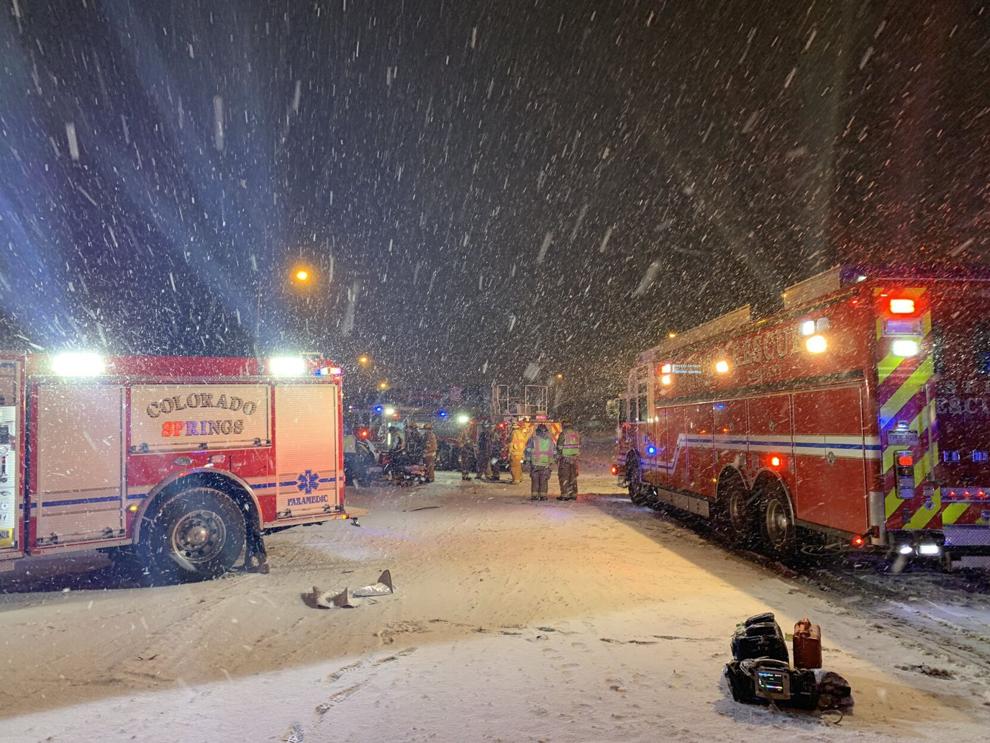 6:15 a.m.: Wind gusts of up to 20 mph were cutting visibility for Front Range drivers while a layer of ice underneath the snow on made for troublesome traction.
in Colorado Springs, the plow crews advised people to spend the day on the couch.
"Travel could be difficult," the city said in a news release. "If you must travel, keep a flashlight, food and water in your vehicle in case of an emergency."
6 a.m.: Treacherous conditions have driven state officials to close several highways, the Colorado Department of Transportation said.
Highways 24 and 94 were closed east of Colorado Springs and Interstate 70 was closed from Limon to Burlington.
I-25 was closed from Wellington to the Wyoming line.
Saturday's winter storm roundup and updates
Statewide road and travel updates from CDOT
Denver International Airport: Flight status updates