To get Brooke Sutherland's newsletter delivered directly to your inbox, sign up here.
Business travel hasn't bounced back yet. But it will — and the recovery may be stronger than expected. 
This isn't a widely shared opinion at the moment. Corporate road warriors have largely stayed away from airports during the pandemic, even as cooped-up Americans have taken advantage of the vaccine rollout to plan getaways and visits with family. In a jam-packed week for airline earnings, American Airlines Group Inc. said daily net bookings had actually outpaced 2019 levels over the past week. But the bulk of that is from domestic leisure travelers; business and long-haul international demand is only 20% of what it was before the pandemic. Southwest Airlines Co. estimated business travel will still be down at least 50% at the end of this year compared with pre-Covid levels and Chief Executive Officer Gary Kelly said he wouldn't be surprised if the market didn't fully recover for another decade. 
"One has to be realistic," Kelly told Bloomberg TV in an interview. "In a typical recession, business travel is cut very sharply, and it's five years before it recovers to pre-recession levels. Is this a normal recession? No. But you have the added complication, as we all know, of the virtual and remote work environments that have been created over the last year."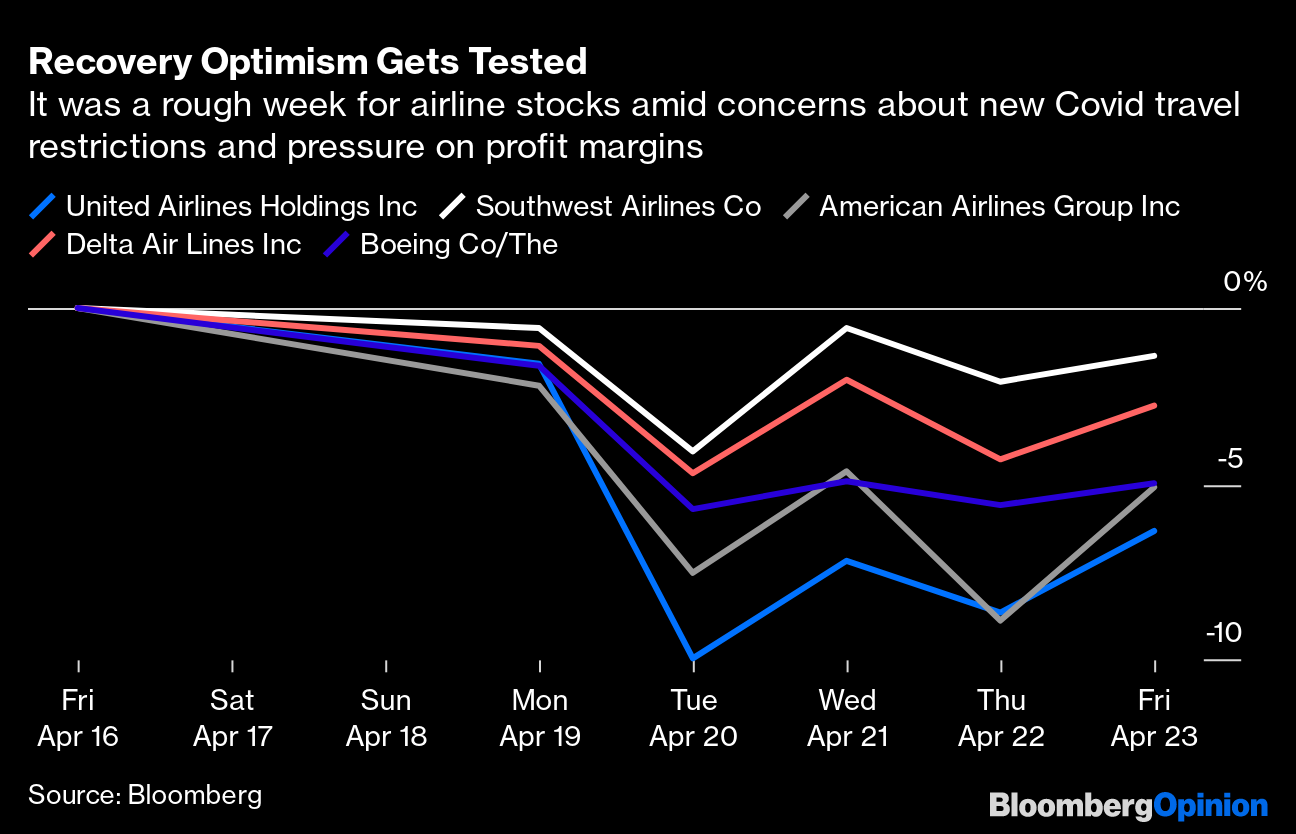 But hear me out. It doesn't seem logical that there would be all this pent-up demand for leisure travel and no interest in getting back out on the road to meet with clients and colleagues again. The first is obviously a priority after a mentally taxing year-plus under lockdown-like conditions. But as excited as I am about reconnecting with family and friends and taking a much-needed vacation, I'm also eager to get back to the fun parts of my job: visiting factories and meeting people. I imagine a lot of other people feel similarly. Aerospace analysts seem particularly bummed that there won't be a Paris Air Show this year.
In a weird way, I think the outlook for business travel is only getting brighter the longer the pandemic drags on. Six months ago, Zoom Video Communications Inc. and Microsoft Corp.'s Teams applications were still enough of a novelty that it felt like we'd stumbled upon a more efficient way to work. Now, after what feels like gazillions of virtual conversations, we're gaining a new appreciation for the value of in-person interaction.
Speaking on United Airlines Holdings Inc.'s  first-quarter earnings call this week, CEO Scott Kirby detailed his conversations through the pandemic with one of the carrier's biggest corporate travel partners. Last summer, the CEO of that company predicted business travel would be permanently cut in half. By fall, he was planning for a complete return of all customer-related travel because the company was losing ground by not meeting clients in-person; he still expected to eliminate a lot of internal trips. Now, he's planning for internal travel to be 20% to 30% higher than 2019 for at least a year as the company tries to make up for lost time on the cultural integration of new hires.
"Business travel is about relationships; it is not about transactions," and you can't build relationships through video-conferencing applications, Kirby said. It's in his interest to believe that. Business travel is the most lucrative market for airlines because corporate fliers tend to buy tickets at the last minute and at high prices. It's especially important to United, which gets about a third of its revenue from domestic business travelers. The company this week said it could have net income again if business and international travel recover to at least 65% of pre-pandemic levels, but executives declined to specify when they thought that might occur. United's second-quarter seat-capacity and revenue outlook suggests it's not going to happen this summer, though that shouldn't be a surprise.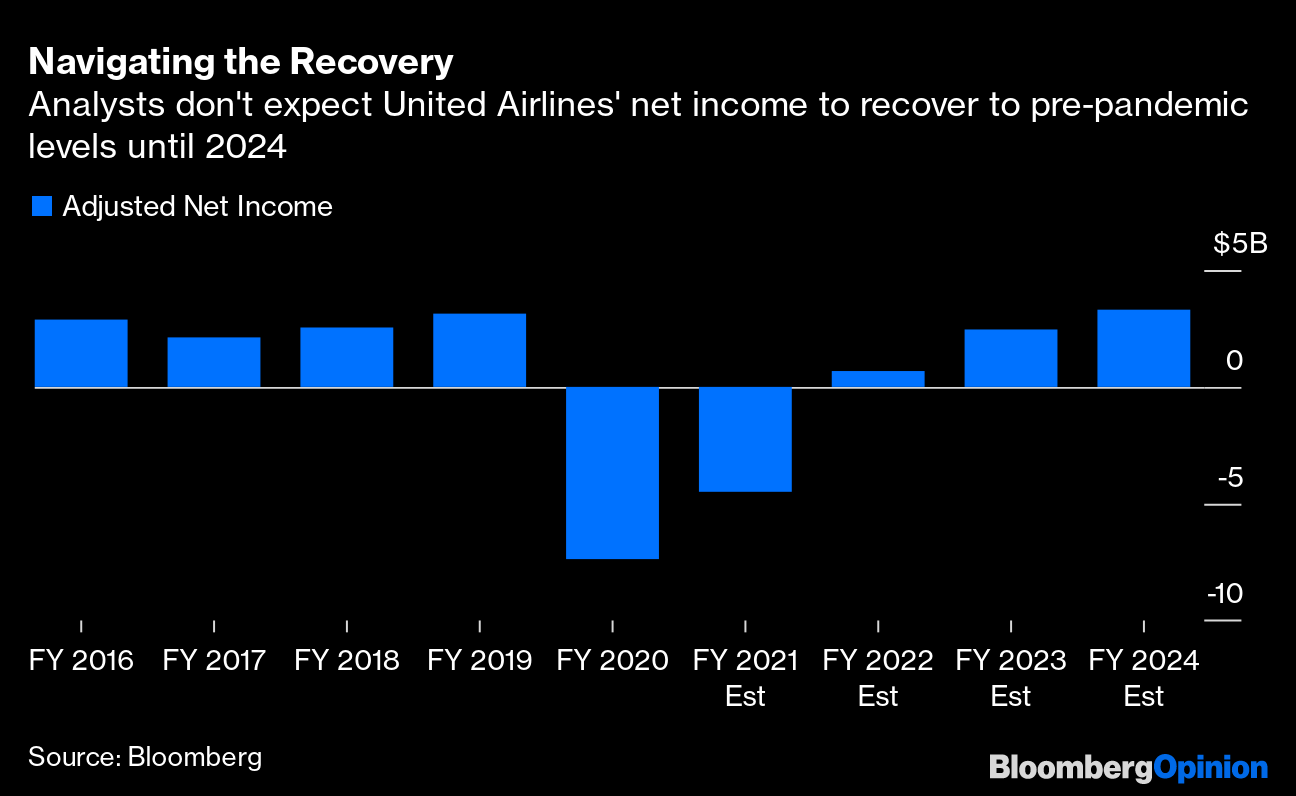 I've asked a fair number of people about this and it's striking the degree to which people's perspective on the necessity of business travel seems to be colored by where they are in their careers. Those who were well-established in their company or their industry probably didn't skip a beat during this forced work-from-home experiment because they had already had the meetings, introductions and random run-ins at conferences necessary to build a rolodex of contacts. Anyone who is just starting out or recently switched jobs is in a much tougher spot. 
And apparently, the ranks of people looking to change up their careers is growing. A recent survey backed by Prudential Financial Inc. founded that 20% of American workers switched jobs during the pandemic, while about a quarter plan to look for a new position once the pandemic has eased. A Microsoft survey found that more than 70% of global employees want to continue to have the option of working remotely but more than 65% are craving in-person time with their teams.
Some past forms of business travel may indeed be permanently gone. My colleague Joe Nocera last month argued that the pandemic showed some of the excesses of corporate trips, noting that "not a single lawyer I know said they would ever go back to the bad old days of nonstop travel" because they could now easily do routine depositions and status hearings from home. Within companies, "things that are culture and innovation-related are hard to do long-term virtually," Mike Lamach, CEO of air-conditioner and refrigerated trailer company Trane Technologies Plc, said in a February interview. But transactional activities such as capital-expenditure approvals can easily be done over video, and the company probably doesn't need to do each one of its four quarterly reviews in person with every team "just because the calendar says we should do that," he said.
Industrial software company Aveva Group Plc has adapted to travel restrictions by relying more on localized teams and the cloud for project installations. "Someone told me the only thing that stops you changing is the thing that's between your two ears," Aveva CEO Craig Hayman said in an interview last month. "Before, the customer would say we have to be there to do it and we would say we have to be there. But in a pandemic, you can't go. Sending someone transatlantic is like taking a steamship." The forced modifications have made the process more efficient, he said.
But if you think about each of those examples, they involve instances where a relationship — or at least a level of mutual respect and recognition — already exists. The trust necessary to make these interactions effective in virtual, video-conference settings was already built. And so as we think about the impact of the pandemic on the way we work, there will likely be new and different kinds of corporate travel that emerge post-Covid. The New York Times recently heralded the coming of the "YOLO economy" (as in you only live once), characterized by risk-adverse people transitioning from big corporate jobs to start new businesses, pursue passion projects or switch to positions that offer work-from-anywhere flexibility. Some of those things can be done from your basement, but at a certain scale, new business ventures require travel to meet customers and suppliers. American Airlines executives said the recovery in corporate travel was showing up first in its small business customers, with demand improving steadily as the vaccination effort has accelerated and reopenings have helped spur the economic recovery. 
United's Kirby linked the return of business travel to a return to offices, which he thinks will happen in the U.S. this fall once schools across the country have broadly reopened. "When you start to see people in office buildings down in Manhattan, and it's hard to get a table at lunch, you'll know that business travel is probably back," he said. That seems logical enough for a certain core contingent of corporate travelers. But I would argue that if you're pessimistic about the future of in-office work, you should actually be bullish on corporate travel. If companies have any interest in maintaining some semblance of culture and teamwork, not to mention relationships with clients, it's just not tenable for most people to work from home in isolation in perpetuity. Leaders will have to be more thoughtful and proactive about planning in-person gatherings.
It's still up for debate how much future business travel traffic will flow to commercial airlines such as United, American and Southwest; many high-powered executives may choose to fly private instead. Honeywell International Inc. noted favorable trends in its business-jet division when it reported first-quarter earnings on Friday, with flight hours coming in ahead of expectations. Throughout the pandemic, there have been many predictions that have turned out to be wrong. New York isn't dead. Offices aren't dead. And I don't think business travel is dead, either. 
Working on the Railroad
Kansas City Southern is now at the center of a bidding war after Canadian National Railway Co. lobbed in a surprise $33.7 billion takeover offer for the company. The $325-a-share stock-and-cash bid easily tops the $275 offer that Kansas City Southern had accepted from Canadian Pacific Railway Ltd. last month. But price isn't the only factor in a heavily consolidated railroad industry that hasn't seen a megamerger like this since the 1990s. Canadian Pacific and Kansas City Southern don't overlap and even combined, they would be the smallest of the major North American carriers. Canadian National already has a north-south railroad line in the U.S., thanks to the purchase of Illinois Central in 1998, and its network duplicates about 65 miles of Kansas City Southern tracks, primarily in Louisiana. Canadian National thinks this overlap (about 1% of the companies' combined network) can be worked out with regulators and has touted the public interest benefits of a streamlined cross-continent railroad that can improve service for customers and wrest freight traffic away from the more carbon-intensive trucking industry. Canadian Pacific, obviously, disagrees and contends that a Kansas City Southern-Canadian National combination would reduce independent freight options for shippers on certain routes, as well as put its own business at an operational disadvantage.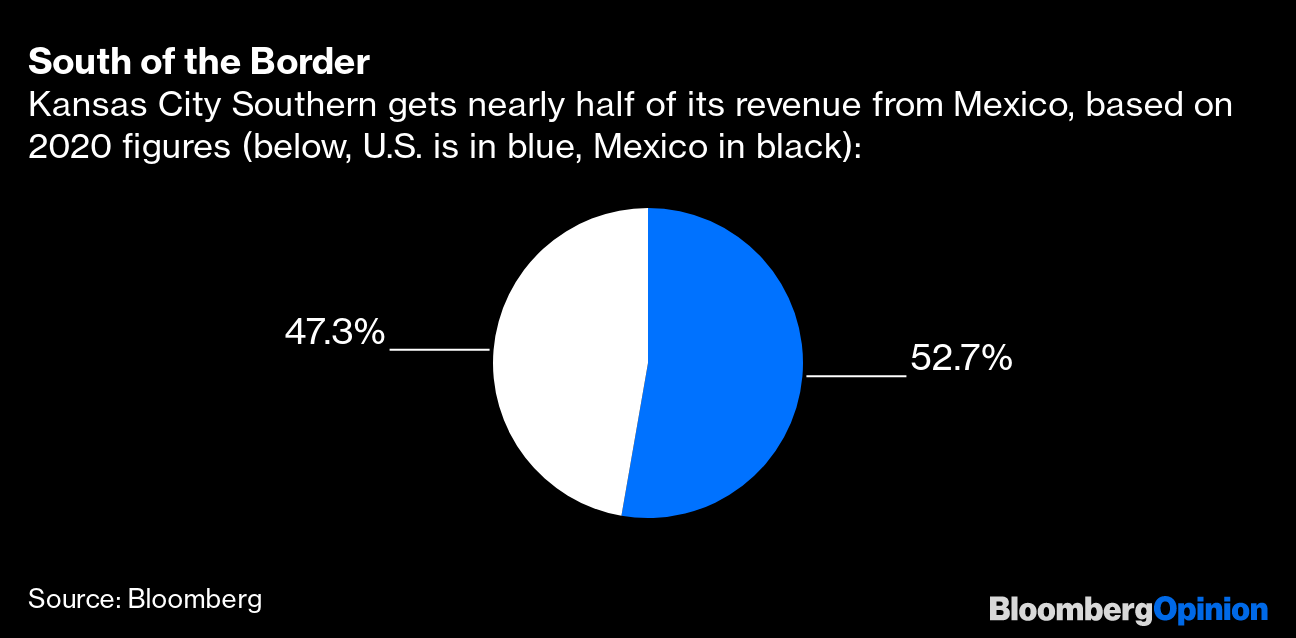 Canadian Pacific's argument that a Kansas City Southern takeover would both be in the public interest and enhance competition is cleaner, but it bizarrely continues to fight against the application of 2001 merger rules that would require it to prove that. Kansas City Southern was granted a path to an exemption from the tougher scrutiny because of its comparatively smaller size, but it has grown significantly in revenue and importance in the two decades since. And so Canadian National has actually lobbied for the higher antitrust standards to be applied and is actively preparing to meet them. That makes Canadian Pacific's current strategy of loudly arguing its bid is superior on regulatory grounds while keeping the price the same a bit awkward. Canadian Pacific has the financial wherewithal to best Canadian National's offer and if it's really optimistic about the future prospects of Kansas City Southern's business, it might even be able to convince itself that the head-spinning valuation such a move would imply is justified. But it would be a stretch on both fronts. And maybe that's the point: If Canadian National can't ultimately have Kansas City Southern for itself, it's in the company's interest to make a deal as expensive as possible for its archrival. On a call to discuss its earnings this week, Canadian Pacific raised the prospect of pursuing alternative targets if it loses out on Kansas City Southern. It has previously tried to acquire CSX Corp. and Norfolk Southern Corp., although both of those deals would be much tougher sells antitrust-wise. 
Deals, Activists and Corporate Governance
Boeing Co. is getting a new chief financial officer. In a surprise move, the aerospace giant announced this week that Greg Smith was stepping down in July after 10 years in the role. The departure could be interpreted in a few ways. As expected, Boeing also extended its mandatory retirement provision by five years to age 70 for CEO Dave Calhoun, who turned 64 last weekend. This provides a sense of stability in a company that's had no shortage of volatility of late and will allow Calhoun to continue his work navigating Boeing through the twin crises of the 737 Max crashes and the coronavirus pandemic. But it also means that the CEO job won't be available for at least a few years. Smith was viewed as a possible successor, and he may have decided to pursue a CEO job elsewhere rather than wait around to see if he might some day get picked to lead Boeing. The planemaker is also clearly in need of a cultural and strategic overhaul as embarrassing manufacturing hiccups pile up and it continues to lose market share to rival Airbus SE. While Smith was well-respected on Wall Street, he was undeniably a part of the management team that got the company into this mess. Revamping "strategic leadership may be viewed as important to drive change, as well as for a reset with customers, suppliers and other stakeholders," Canaccord analyst Ken Herbert wrote in a report. I am less convinced of this theory — or at least unconvinced that a CFO change alone will fix things. As much as he tries to act otherwise, Calhoun is also very much a part of the "old guard" of Boeing and has served on the board for longer than Smith was CFO. A third possibility is that maybe Smith was just tired of being Boeing's CFO; it hasn't exactly been a fun job lately. 
Middleby Corp., a $10 billion maker of restaurant-grade fryers, ovens and grills, agreed to buy rival Welbilt Inc. in an all-stock transaction valued at $4.3 billion including the assumption of debt. Welbilt's more bloated balance sheet likely prevented it from investing as effectively in new trends around cooking automation and menu connectivity in restaurants, and the combined company will be in a better position to meet customer demands for innovation, Melius Research analyst Rob Wertheimer wrote in a note. It's the largest acquisition for Middleby, which will now get three-quarters of its revenue from commercial food-service products. The company also sells residential kitchen gear and food-processing equipment, but given the shrinking relative size of those businesses, it's fair to ask if Middleby is still the best owner of the assets. Antitrust regulators may demand divestitures to bless the Welbilt transaction, with Dover Corp. and Illinois Tool Works Inc. likely among the potential buyers of assets, Barclays Plc analyst Julian Mitchell wrote in a note. It's possible ITW may even decide to make a counteroffer for Welbilt. ITW has indicated it wants to do more M&A and its food-service equipment unit has less overlap with Welbilt than Middleby does, Mitchell said. Welbilt also has the kind of potential for significant margin improvement that ITW looks for in deal targets. But Middleby is offering about 19 times Welbilt's estimated 2021 Ebitda and that kind of price tag may be off-putting for ITW, which prides itself on a disciplined approach to M&A. In other food-equipment dealmaking, Pentair Plc agreed to acquire Ken's Beverage Inc. — which sells items such as coffee brewers, soda fountains and ice makers to customers including McDonald's Corp. and Wendy's Co. — for $80 million.
Rolls-Royce Holdings Plc may have issues selling its ITP Aero parts and development unit to private equity firms. The Spanish government has warned the engine maker that such a deal risks being blocked unless the buyers are able to make assurances about the future of the assets, a person familiar with the matter told Bloomberg News. ITP is based in Zamudio near the northern Spanish city of Bilbao and the government can block deals for businesses it considers strategically important. The government has reportedly told Rolls-Royce that it needs to sell the ITP business to another industrial company or to a private equity firm that partners with one, and that the division's operations need to continue to be based in Spain. Among the potential buyers for ITP, TowerBrook Capital already owns Spanish aerospace supplier Aernnova Aerospace SA. Other private equity suitors may seek to team up with local manufacturers such as Aciturri Aerostructures, people familiar with the matter told Bloomberg. A deal is expected to be valued in the range of 1.5 billion euros ($1.8 billion). In other news of European regulators scuttling deals, CNH Industrial NV abandoned efforts to sell its Iveco truck and bus business to China FAW Group Co. amid pushback from the French and Italian governments. 
Bonus Reading
Airlines See Covid Setbacks Driving Them to $48 Billion Loss
Rare Lumber Trade Shows How Extreme U.S. Shortages Have Become
Pentagon Is Seen Short $7.1 Billion on What It Needs to Fly F-35
Can Oil Majors Make Electric Vehicle Charging Pay?: Liam Denning
Blackstone Bets Billions on Reopening and Travel Revival
Why Covid Won't Free Up Middle Seats on Planes: David Fickling
Everybody Wants To Be A Used Car Billionaire: Chris Bryant
The Shipping Industry Wants to Be Taxed for Its Carbon Emissions
Neeleman Launches Yet Another Airline, This One at a Weird Time
This column does not necessarily reflect the opinion of the editorial board or Bloomberg LP and its owners.
To contact the editor responsible for this story:
Beth Williams at [email protected]