Under the plan, Singaporean nationals who have had their vaccination would be able to travel to Australia for work, study or holidays without having to complete two weeks' hotel quarantine.
It could also be possible for people from third countries to enter Australia via Singapore after completing two weeks' quarantine in the city-state.
New Zealanders can currently travel to Australia without going through quarantine but a two-way bubble has stalled because of New Zealand's reluctance to open to Australia.
A key aspect of the two-or-three country bubble plan is for each country to recognise the others' digital vaccine certificates.
Alternatively, a person who received a COVID-19 jab in Singapore and given a Singapore-issued "proof of vaccination" certificate, which Australia would recognise, could have their entry to Australia expedited and potentially avoid hotel quarantine, or quarantine for just a week, subject to Australian government medical advice.
The use of Singapore to bring Australians home and to restart tourism and business travel would significantly ease pressure on the states' hotel quarantine systems and the federal government's Howard Springs facility.
Australians who have had the jab can already access their certificate through the ExpressPlus Medicare app, but the Morrison government is working to develop the certificate and to make it inter-operable with other countries' proof of vaccine certificates.
Government Services Minister Stuart Robert said "significant investment" in the Australian Immunisation Register meant the government was "in a great position to provide proof of vaccinations to all Australians from the moment the first vaccine was administered".
"We will look to evolve the way we present and verify the proof of vaccination and continue to make it both secure and trusted, as well as user friendly," Mr Robert said.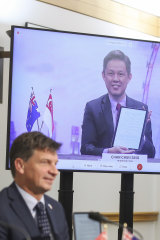 "At the same time, the government continues to work with other governments and the World Health Organisation on inter-operability of proof of vaccination for overseas travel, if and when required."
International travel for education, business and tourism contributed $45 billion a year to the Australian economy before the pandemic hit and last week Universities Australia estimated the decrease in international students had cost an estimated 17,300 jobs and $1.8 billion in revenue.
For Singapore, the proposal would bring in revenue for its hotel operators and the broader tourism sector, as well as ensuring it maintained its status as regional hub for flights.
Singaporean trade minister Chan Chun Sing outlined plans last December for Singapore to allow more travellers to enter or transit through the country, according to the Straits Times, but said the reopening of borders would be carefully managed to protect the health system.
Loading
Like Australia, Singapore has largely crushed the virus and regularly reports days without any community transmission. It has reported just over 60,000 infections, roughly double Australia's infection rate, but just 29 deaths compared to 909 deaths.
It has vaccinated 6.7 per cent of its 5.7 million citizens with Pfizer and Moderna vaccines, well ahead of Australia's 0.4 per cent.
Setting up a two-way travel bubble between Australia and Singapore, and potentially a three country bubble with New Zealand, would be a crucial step in the staged re-opening of Australia's borders.
The Singaporean government has already designated Australia – along with New Zealand, Brunei, China and Taiwan – as a "green zone" country and at present Australians only have to self-isolate in Singapore until they receive a negative PCR test result, a process which takes six to 48 hours.
As of April 2020, about 15,000 Australians lived in Singapore while about 70,000 Singaporeans resided in Australia.
Get our Coronavirus Update newsletter
Stay across the news you need to know related to the pandemic. Sent Monday and Thursday. Sign up here.
James Massola is political correspondent for the Sun-Herald and
Sunday Age. He was previously south-east Asia correspondent in Jakarta and chief political correspondent. Before that he was political correspondent for the Australian Financial Review.